Last Updated on February 24, 2021
President Donald Trump released a statement Wednesday officially announcing his endorsement of former Senior Advisor to the Trump campaign Bob Paduchik for the position of Chairman of the Republican Party of Ohio.
"Bob Paduchik is running for Chair of the Republican Party of Ohio," President Trump said in the statement. "He successfully led my campaign in both 2016 and 2020, having even more success the second time around. He is outstanding in every way, and I give him my full and complete endorsement. Bob loves our country and the Great State of Ohio. He will be an outstanding Chairman!"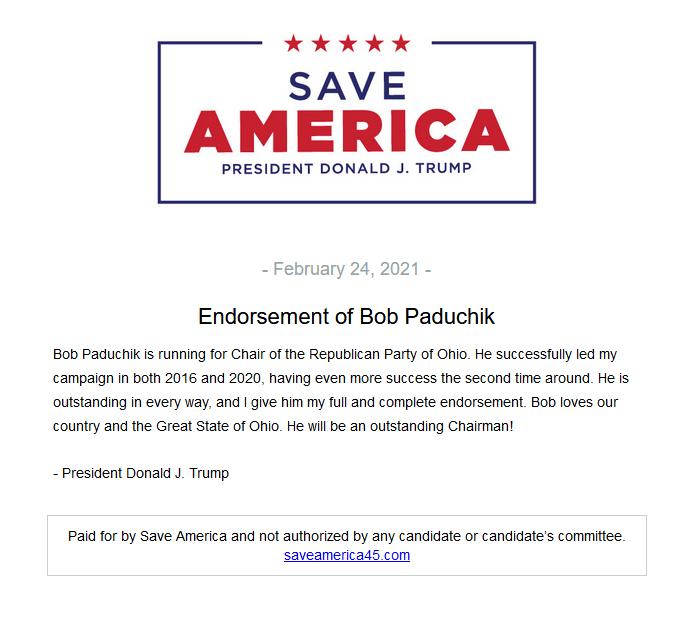 President Trump's endorsements have already proven to be a key in the advancement of Trump allies within the GOP.
In January, Arizona GOP Chair Kelli Ward was re-elected for a second term after receiving an endorsement from the former President:
In a repudiation of the Republican establishment, Dr Kelli Ward has won re-election as Chair of the Arizona GOP, after being endorsed by President Trump.

Ward was re-elected to the position for another two years at the annual Arizona GOP State Committee meeting in Phoenix on Saturday. Speaking to the crowd, Ward told the meeting that they needed to help elect America First Republicans in Arizona, rather than carry on with the politics of the past.

Ward faced off against three challengers for her second term as chair: Sergio Arellano, Bob Lettieri, and Ann Niemann. In the first round of voting, Ward came in a strong first place with 46%, Arellano received 26%, Lettieri received 24%, and Niemann got 3%. With the voting then going to a second round, Lettieri endorsed Arellano in his challenge of Ward.
President Trump has also endorsed former White House press secretary Sarah Sanders for the Arkansas gubernatorial race.