Last Updated on February 12, 2022
After months of suspense following his historic de-personing from left wing social media outlets, 45th President Donald Trump has announced "Truth Social" – a new social media project run by the newly formed Trump Media & Technology Group – will launch early in 2022.
In a surprise email sent to media on Wednesday evening, a multi media company and accompanying social media platform was announced from a newly-formed organization called the Trump Media & Technology Group. According to the press release, TMTG will soon be a publicly listed company:
Trump Media & Technology Group's mission is to create a rival to the liberal media consortium and fight back against the "Big Tech" companies of Silicon Valley, which have used their unilateral power to silence opposing voices in America.

Trump Media & Technology Group ("TMTG") will soon be launching a social network, named "TRUTH Social." TRUTH Social is now available for Pre-Order in the Apple App store. TRUTH Social plans to begin its Beta Launch for invited guests in November 2021. A nationwide rollout is expected in the first quarter of 2022. Those who are interested in joining TRUTH Social may now visit www.truthsocial.com to sign up for the invite list.
President Trump wrote, "I created TRUTH Social and TMTG to stand up to the tyranny of Big Tech. We live in a world where the Taliban has a huge presence on Twitter, yet your favorite American President has been silenced. This is unacceptable." The 45th President added that he is "excited to send out my first TRUTH on TRUTH Social very soon."
"TMTG was founded with a mission to give a voice to all. I'm excited to soon begin sharing my thoughts on TRUTH Social and to fight back against Big Tech. Everyone asks me why doesn't someone stand up to Big Tech? Well, we will be soon!"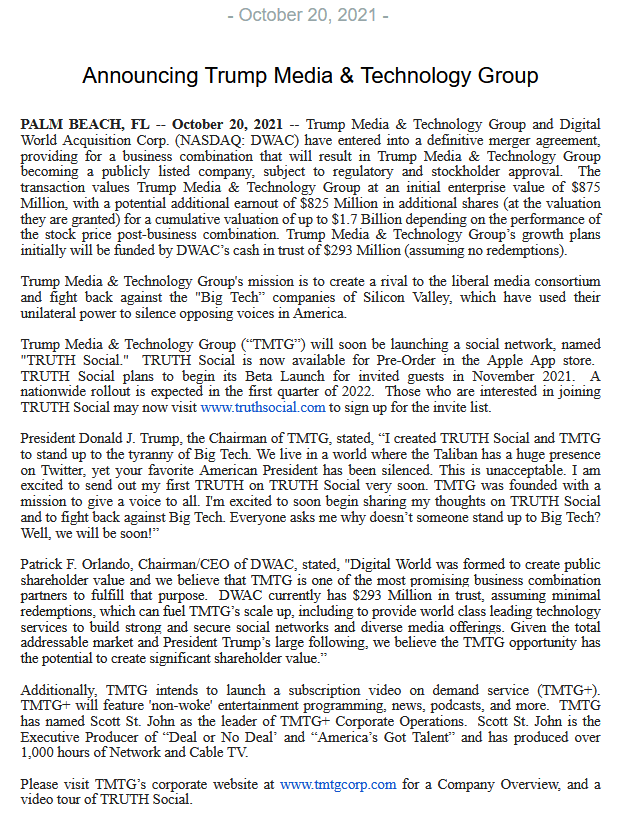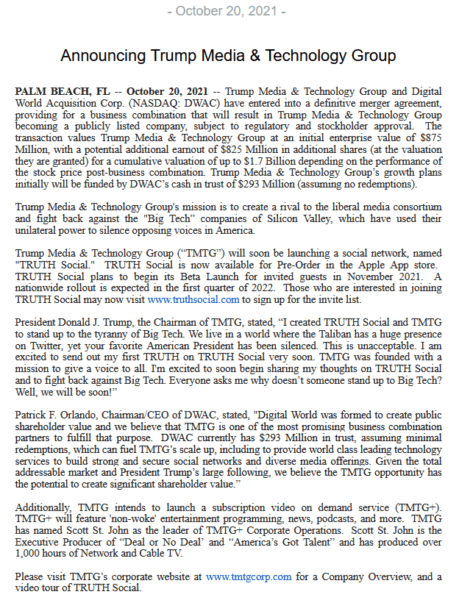 In addition to the social media site, "TMTG intends to launch a subscription video on demand service (TMTG+)" that "will feature 'non-woke' entertainment programming, news, podcasts, and more." President Trump has apparently garnered high profile talent for the venture.
"TMTG has named Scott St. John as the leader of TMTG+ Corporate Operations," the press release explains that "St. John is the Executive Producer of 'Deal or No Deal' and 'America's Got Talent' and has produced over 1,000 hours of Network and Cable TV."
This is a breaking news story and may be updated with additional information or context.