Breaking News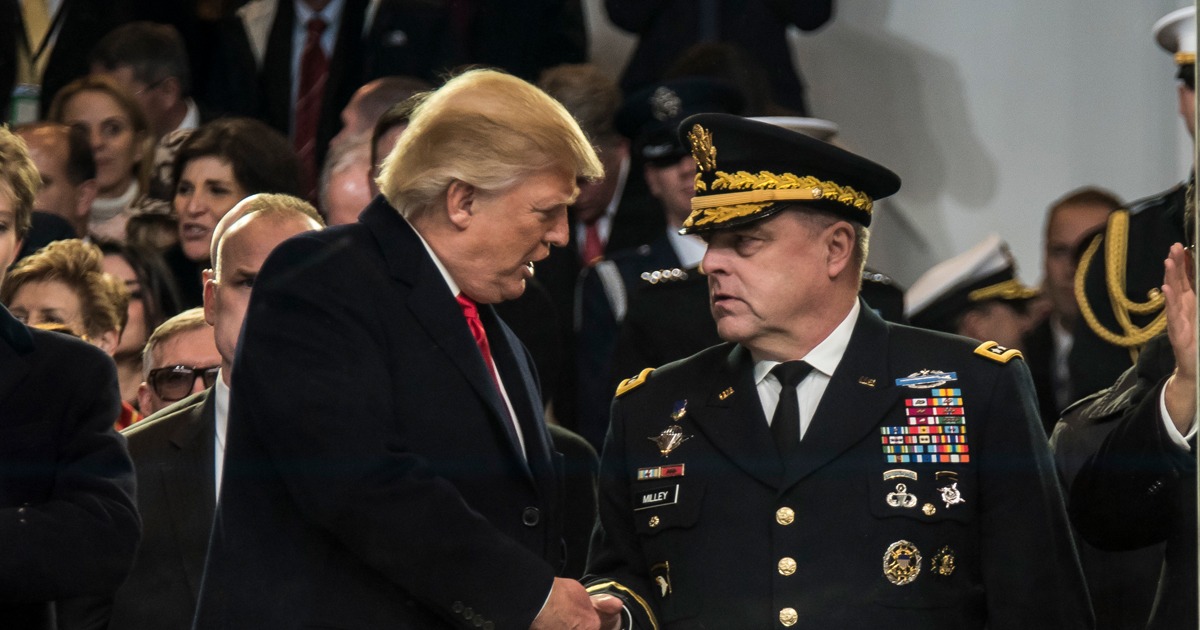 BREAKING: Pentagon REFUSES To Interfere In 2020 Election After Biden Suggests Military May Remove Trump
Today a letter from the United States' most senior military official, Chairman of the Joint Chiefs of Staff Gen. Mark Milley, explained that in his view the United States military is meant to be "apolitical" and he does not intend for it to take sides in the upcoming presidential election.
"The Constitution and laws of the US and the states establish procedures for carrying out elections, and for resolving disputes over the outcome of elections," wrote Milley in a letter sent to two members of Congress. "I do not see the US military as part of this process."
Milley continued, "In the event of a dispute over some aspect of the elections, by law U.S. courts and the U.S. Congress are required to resolve any disputes, not the U.S. Military."
Advertisement - story continues below
"I believe deeply in the principle of an apolitical U.S. military."
This comes after Democrat presidential candidate Joe Biden floated the idea of involving the military in the 2020 election, claiming that if he were to lose, President Donald Trump would refuse to concede and may need to be escorted away from the White House by military police.
Democrats also experienced such a scenario while role playing a war game of the 2020 election, in which the New York Times and other mainstream media reported that former Clinton campaign manager John Podesta, while role playing as Biden, refused to concede the election to President Trump.
New: John Podesta played Biden in an election war-game, and refused to concede in a scenario that looked a bit like 2016 https://t.co/kDEzgI0ejl pic.twitter.com/WmhcGf0wxQ

— Ben Smith (@benyt) August 2, 2020
Advertisement - story continues below
In the war game, Podesta, again playing as Biden, refused to concede the election, bringing the country to the point of secession and civil war. The war game was only stopped when it became apparent that the American public would look toward the military to involve themselves and determine whether Biden or President Trump were the legally elected president.
It was initially unclear what the significance of ending the war game at this point was, as legally the military is not allowed to involve itself with elections. Milley's letter now seems to reiterate this law as a matter of policy.
One of the war game's organizers, Georgetown law professor Rosa Brooks, claimed that "All of our scenarios ended in both street-level violence and political impasse."
Advertisement - story continues below
Despite this war game suggesting Biden may refuse to concede and bring the country into uncharted territory, Democrats have repeatedly suggested that President Trump will refuse to concede the election, with mainstream media publications echoing the concern.
The Guardian published an opinion column titled "What if Trump loses but refuses to leave office? Here's the worst case scenario," The Intercept published the ominous headline "What If Trump Won't Leave?" and Politico asked, "What if Trump won't accept 2020 defeat?" all between June and August.
Milley's letter was written in response to Democratic Reps. Elissa Slotkin of Michigan and Mikie Sherrill of New Jersey following a July meeting of the Armed Services Committee.
This is a developing news story and may be updated as additional facts become available.
National File is committed to ensuring your voice can and will be heard. To keep your speech free, we are switching our commenting platform to Insticator. Don't worry! All you have to do is create a commenting account with Insticator. We will be transferring previous comments to our new site, and then you will be able to link your past comments to your new Insticator account. If you have any feedback or questions about your Insticator commenting account, please email them at: [email protected]
Conversation