Last Updated on August 6, 2020
Streaming personality Guy "Dr Disrespect" Beahm launched his first stream in over a month Thursday, using his YouTube channel to stream for the first time ever.
Beahm was banned from Amazon-owned Twitch in June, with no reason provided by Twitch's legal team. Beahm had over million followers on Twitch at the time of his ban.
READ MORE: Twitch Bans Dr Disrespect, Trump After Appointing ADL-Backed Trans Deergirl As 'Safety Advisor'
Since then, Beahm has teased a return on social media, first with a song posted to Twitter on July 16 that received over 8 million views:
— Dr Disrespect (@drdisrespect) July 16, 2020
Beahm teased a further return in another Twitter Thursday morning, as well as a video posted to Instagram Live.
— Dr Disrespect (@drdisrespect) August 6, 2020
for anyone who missed it Dr DisRespect Instagram live #drdisrepect pic.twitter.com/GIwnb1RPBb

— Benjay_ (@itsbenjay_) August 6, 2020
Dr Disrespect then launched a stream titled "Dr Disrespect – The 2x Champion" on his YouTube channel.
The stream so far consists of a graphic related to the Dr Disrespect brand on-screen while synthwave songs play in the background, interspersed with comedic radio sketches teasing the Doc's return.
One of the sketches stated that none of Dr Disrespect's friends who stream on Twitch are allowed to play games with him on stream.
As of press time, the stream has reached a staggering 300,000 concurrent viewer count.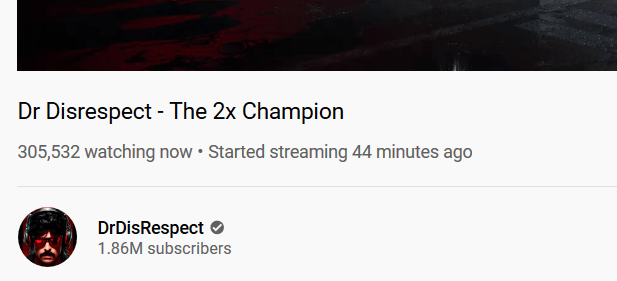 Update: Dr Disrespect later took to Twitter to inform fans that Thursday's stream was a test stream and that he would be resuming regular streams starting Friday.
Tomorrow, we arrive.https://t.co/EzD5VNbsVB

— Dr Disrespect (@drdisrespect) August 6, 2020
Editor's Note: This is a developing story and may be updated at a later date.