Last Updated on March 8, 2021
Left-wing transgender hackers secured access to hundreds of Gab accounts on Monday, posting spam messages that attacked Gab CEO Andrew Torba and Gab's "despicable users." The website went offline shortly after the breach, likely as a short term security measure.
The hackers, who appear confident that they will not face justice for their illegal actions from law enforcement officials sympathetic to their accounts, focused on verified accounts during Monday's hack, including the National File Gab account.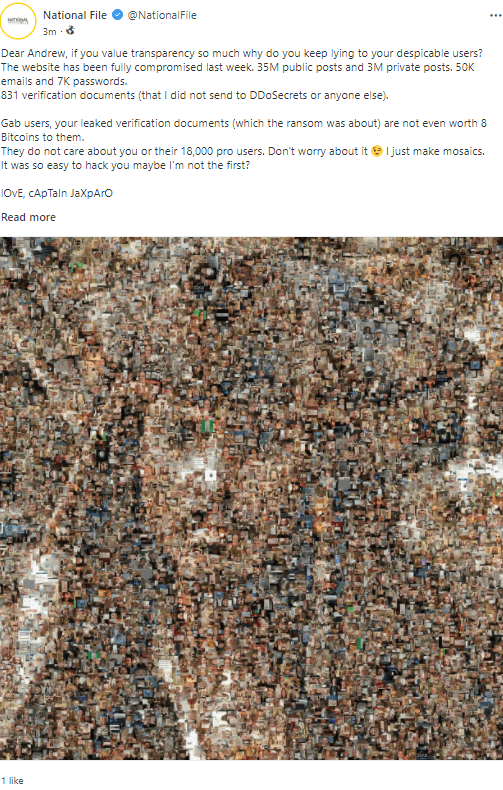 Gab CEO Andrew Torba slammed the attack by "mentally ill tranny demon hackers" when news of the data breach first surfaced in February, and stated "we are working with our partners in law enforcement on this issue."
— Gab.com (@getongab) February 28, 2021
Torba also recommended that users change their passwords and enable two-factor authentication on their gab account. Monday's breach affected several accounts that had changed passwords after news of the breach occurred.
In Gab's most recent press release on the story on March 6, the company stated, "According to Troy Hunt, a researcher who received the data, 43,015 unique email addresses were included along with another 24,017 emails that were shared in public posts on Gab. 7,097 hashed passwords were also included along with 62.4GB of Gab posts that can be accessed on the site right now by nature of Gab being a public forum."
The statement revealed that Gab has "hired one of the best rapid response security teams in the world to investigate the breach."
Gab went offline shortly after the breach.
This is a developing story and will be updated as additional information becomes available.