Last Updated on January 15, 2021
Freshman Congressman Bob Good, of Virginia's 5th District, is getting down to brass tacks on Capitol Hill, defending President Trump and calling on Representative Liz Cheney to step down as Republican Conference Chair over her vote with Democrats to impeach the President.
In a statement calling for her resignation as Chair, Good blasted Cheney's vote, as well as her pre-vote decision to notify the media – and not her own party – of her intentions to turn on President Trump.
"Her decision to impeach the president does not represent the majority of our conference," Good's statement reads. "It has only served to become a Democrat talking point."
"Leadership is a privilege, and carries great responsibility. I believe that privilege has been violated, and I am calling for her to step down as Republican Conference Chair."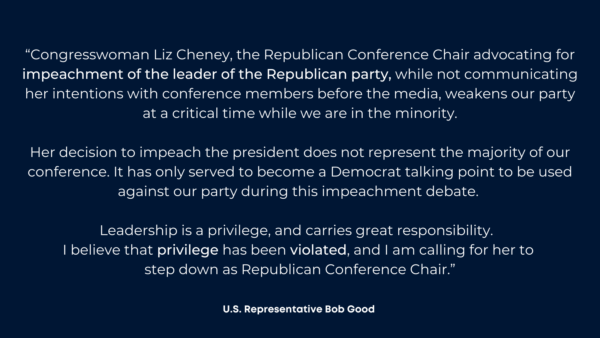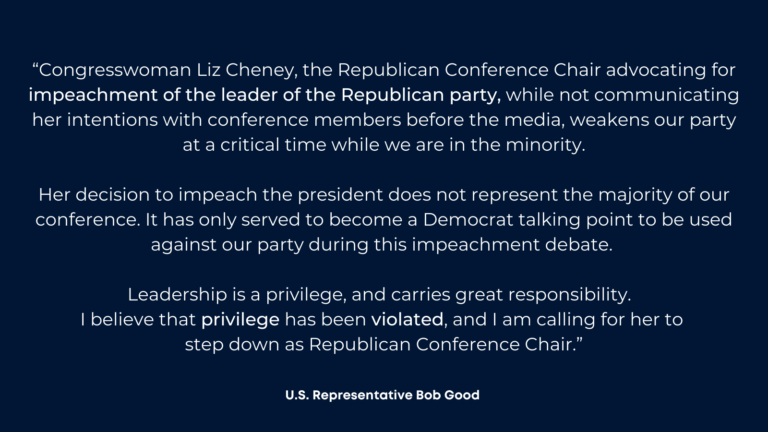 Good also rose to speak on the House floor, alongside Ohio Congressman Jim Jordan, "in support of President Trump and against the sham impeachment proceedings."
"This is merely the culmination of a four year effort to overturn the will of the people and the results of the 2016 Election," said Good, before highlighting the deep divisions wrought by a barrage of Democrat-led political hit jobs against President Trump.
"This action will only serve to further offend the 75 million people who voted for President Trump and further deepen the division within our nation as we try to move forward with a peaceful transition of power," said Good. "However, the Democrat majority has determined he's already guilty and there's no need of a trial and they've therefore moved forward quickly with this phony impeachment charge."
"Today, I join my Republican colleagues in standing against this further effort to divide our nation."
Watch Good's full remarks below:
Impeaching the president will further deepen the division within our nation as we try to move forward with a peaceful transition of power. pic.twitter.com/xlHDCFKgAX

— Congressman Bob Good (@RepBobGood) January 13, 2021
Good far from stands alone in his defense of Trump and opposition to Cheney retaining her leadership role within the party, and is joined by several Freedom Caucus members and leading conservatives in his calls for her resignation or removal.
In recent days, a petition laying the groundwork for Cheney's ousting as Conference Chair was started by Montana's Matt Rosendale and Arizona's Andy Biggs and has begun circulating the House Republican Caucus, finding much support.