Last Updated on March 19, 2021
On the day that Democrats are trying to throw her out of Congress, Twitter locked the account of Representative Majorie Taylor Greene for 12 hours for unspecified violations.
The Representative from Georgia, otherwise known as MTG, was locked out of her Twitter account for a total of 12 hours for "repeated violations," according to a spokesman. As of 11 a.m. EDT, at least two hours remain before she will be able to tweet, retweet, or like any posts and interact with her constituents on the Big Tech platform.
The suspension comes as Democrats in the House are attempting to get her thrown out of Congress with a resolution. Representative Jimmy Gomez of California introduced the resolution, which is being co-sponsored by "Squad" member and fellow three-letter-moniker owner Rep. Alexandria Ocasio-Cortez, along with former DNC Chairwoman Rep. Debbie Wasserman-Schulz. 72 Democrats are backing the motion which would require a two-thirds majority to succeed.
Representative Matt Gaetz, another strong advocate of America First in Congress, tweeted that he stands with Greene against the attacks from Big Tech and the left.
I stand with Marjorie Taylor Greene!

— Matt Gaetz (@mattgaetz) March 19, 2021
READ MORE: SPINELESS: Kevin McCarthy Says MTG Endorsed "Political Violence," "Anti-Semitic Conspiracy Theories," Caused "Deep Wounds to Many"
Andrew Torba, the CEO of free speech social media network Gab, of which Greene is an active member, slammed Twitter and Big Tech for working in "coordination with Big Government" to "silence a sitting member of Congress":
Even when a true champion of The People emerges and miraculously makes it to Congress, the Establishment Uniparty machine does everything it can to silence that person's voice… Rep. Greene was locked out of her Twitter account this morning without reason, you can of course still find her on Gab. Greene's greatest sin? Correctly saying that there are only two genders. Congress can't have that type of Truth Speech in their demonic chambers.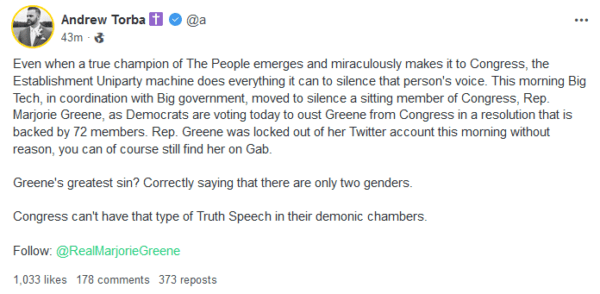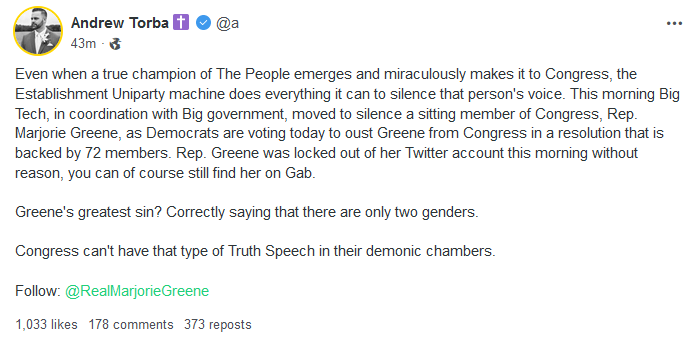 This is not the first action taken against Greene by Congressional Democrats. At the beginning of last month, 11 spineless Republicans sided with Democrats to strip Greene of her committee assignments. The Republicans who sided with Democrats in the successful vote to remove Greene are Adam Kinzinger (IL), Brian Fitzpatrick (PA), Carlos Giménez (FL), Mario Díaz-Balart (FL), Chris Jacobs (NY), John Katko (NY), Young Kim (CA), Nicole Malliotakis (NY), Maria Elvira Salazar (FL), Chris Smith (NJ), and Fred Upton (MI).