Last Updated on October 6, 2019
Political candidate has been stopped from using the incredible power of social media networking for her grassroots campaign, until 3:00 p.m. on the day of her election.
She has been blocked from posting her content in Facebook Groups and in building her readership, and she believes she is heavily censored so that no one can find her page.
In other words, few people can see her posts and she can't recruit new followers.
In a statement Jennings wrote:
"I want to tell you guys about voter corruption, voter suppression, and share the news links with my followers, but sadly Facebook has decided they don't want me to have a voice, and I am unable to post to groups until 3:00 the day of the election, October 12th."
"This experience makes me more determined to prevent internet voting. I know it would be super convenient, however, based on issues such as this, it is not a viable option," Jennings told National File.  
https://www.facebook.com/photo.php?fbid=965006647197181&set=a.128248294206358&type=3&theater
Full statement from Amanda Jennings, Independent grassroots candidate for Secretary of State in Louisiana:
"I have been in Facebook Jail for much of my campaign. My election will be held October 12, 2019.  This is ridiculous for a Secretary of State position.
I am running as Republican but I am taking no big donations. Little People are my only source of donations and word of mouth. I am not spending a lot to advertise. My keyboard warriors that have been with me for years are my greatest asset in this campaign. Send me in Folks! Let me work for you and be able to save us without defending ourselves in the streets from Antifa. I have 22 years of paralegal experience with state training. I am familiar with all aspects of this job."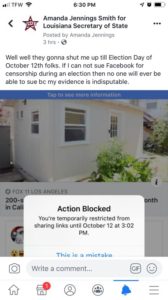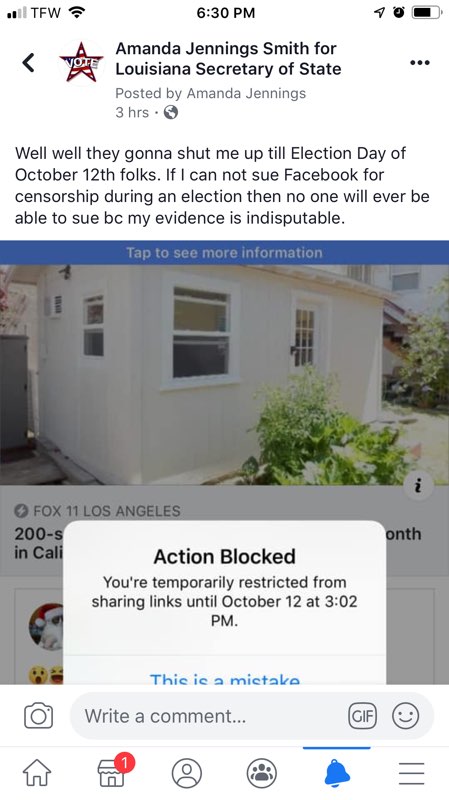 "I view my censorship as a sure sign the swamp is draining. I can feel it online. Big things are happening. I think early voting left them breathless because it is to intentionally prevent a statewide candidate from advertising as every other candidate, and then to completely prevent them from energizing the small base.   I was still able to build even with my big page of 123,000, that is censored."