Last Updated on October 16, 2020
Two individuals that ABC News presented as non-affiliated members of the general public and chose to be questioners during Thursday's town hall with Democrat presidential candidate Joe Biden, had deep ties to the Democrat apparatus.
As President Trump faced a hostile moderator in NBC News' Savannah Guthrie during the same time slot, Biden fielded friendly, softball questions from George Stephanopoulos, who before 2002 was the communications director for the Clinton-Gore administration.
During his chat with Stephanopoulos, questions were fielded from the audience in what was presented as a general public town hall event. But two of the questioners from the audience appeared to be plants; chosen by either ABC News, the Biden campaign, or both.
Nathan Osburn, who was identified in the "communications" field in the ABC News town hall splash, actually worked in the Obama-Biden administration as a speech writer. During that time Osburn worked for the Office of Public Affairs at the Commerce Department and at the Small Business Administration.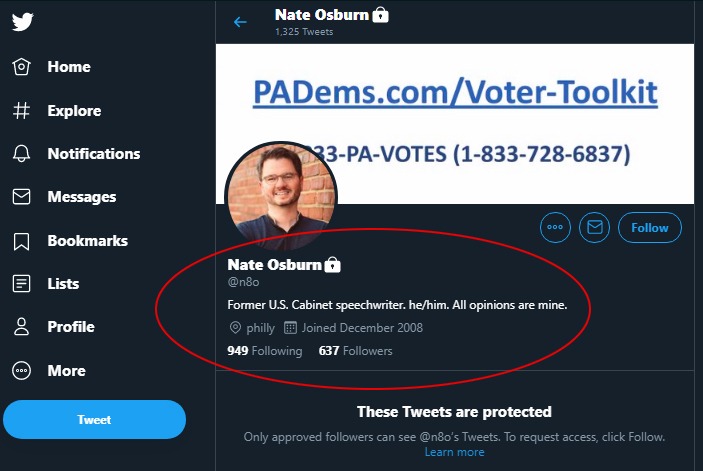 The Philadelphia Inquirer identified Osburn earlier this year as "a former Obama administration speechwriter." Osburn created a "Philly for Pete group" that supported the candidacy of former Democrat presidential primary candidate Pete Buttigieg.
ABC News also spotlighted Mieke Haeck, identifying her as a physical therapist from State College, Pennsylvania. A deeper examination into Haeck reveals that she is the wife of Ezra Nanes, a prominent Democrat in Pennsylvania. In 2018, Haeck's husband ran a campaign challenging the Pennsylvania Republican State Senate Majority Leader. He currently sits as an at-large member of the Centre County Democratic Committee.
Our children and I are so proud of our @MiekeHaeck for her courage in asking this question of @JoeBiden and so grateful to our next President for his caring and decisive answer in support of transgender and all LGBTQ people. https://t.co/zvDlO9c2Tl

— Ezra Nanes (@EzraNanes) October 16, 2020
This is not the first time a Biden town hall has featured staged, friendly questioners.
It was reported on October 6, 2020, that two questioners who were labeled as "undecided voters" by NBC during a town hall with Biden had previously been identified on NBC's sister network, MSNBC, as Biden supporters.