Last Updated on June 15, 2021
Joe Biden engaged in his typical moronic rambling at a summit with the European Union, again humiliating the United States of America while serving in an office once held by George Washington. Biden's consistent rambling idiotic nonsense has weakened America on the world stage, as evidenced by the fact that foreign foe China shows no respect for the Biden regime.
NOW – Biden apparently gets lost reading his notes at EU-US summit.pic.twitter.com/gQ7VgKdTlD

— Disclose.tv (@disclosetv) June 15, 2021
Biden has rambled and blundered his way through various foreign functions of late, consistently undermining America through his sheer presence on the world stage.
Joe Biden's humiliation tour for America continued in Cornwall, United Kingdom as he doddered his way through the G7 summit. In one particularly embarrassing moment for the nation that once had George Washington as its president, Democrat "Sleepy Joe" Biden got pulled away by the arm by his wife Jill so his handlers could prevent him from doing an impromptu interview.
Joe Biden is proving to be a consistent embarrassment to the United States of America, as the world grapples with the fact that Deep State insiders are running the country while Biden blunders around like a painful Psy Op, illustrating U.S. government weakness post-Trump. Is there a more fitting image of the Biden presidency than Joe Biden falling up the stairs? President Donald Trump is not impressed.
Trump: "Do you ever notice when [Biden] had a hard time going up the stairs on the plane…I never went on my a**, I'll tell you." https://t.co/VlT7z8drtO pic.twitter.com/483JrSFy0i

— Newsmax (@newsmax) June 6, 2021
Meanwhile, President Donald Trump responded to French president Emanuel Macron, who praised Joe Biden as "a U.S. president part of the club and very willing to cooperate." Trump slammed the globalist America Last policies of his disputed successor Sleepy Joe.
"This was a quote by the President of France. He and many other Leaders before him, in France and throughout Europe, were ripping off the United States like never before. We were treated very unfairly with horrible trade deals, and paying for a large portion of their defense. They were taking advantage of the United States and therefore, of course, they like Biden because now they will be allowed to return to their old ways of ripping off our Country. If I were a leader of these countries, I too would like Biden far better than President Trump. They will now get very rich off the United States just like they have in the past until a change is made. I am for AMERICA FIRST!," President Donald Trump stated.
President Trump's desire to get world allies in line under American leadership, including his campaign to try to get NATO allies to pay the United States properly for defending them militarily, apparently rankled the European foreign leaders, who seem to get traumatized very easily.
NATIONAL FILE REPORTED: Public Broadcasting Service journalist Yamiche Alcindor declared during an interview on MSNBC this week that European leaders are still nursing "deep scars" that may take "several election cycles" to heal after being "traumatized" by the "elbowing" of former President Donald Trump.
Alcindor said Thursday that "when I've been talking to experts, I've been trying to explain to them, I covered the NATO and the G7w hen President Trump was there. Those were the only summits as a reporter that I got to cover, and I said, 'Well, what does a normal summit look like?' And they said, 'Well first, it doesn't look anything like what you've experienced."
"There, the, the, [sic] the impulses of President Trump, former President Trump, the elbowing of leaders, the calling into question not what should be done in these organizations but whether or not they should even exist," Alcindor continued. "European leaders were frankly scared, a lot of them were traumatized, there are deep scars in these relationships, and that's why we're seeing President Biden really leaning in to what we're calling the Biden doctrine…"
It is nothing short of hilarious to hear a US reporter speak with such concern about the "trauma" and "scars" of European leaders from Trump's policies. Maybe we need a Marshall Plan to send psychologists and therapy dogs to the halls of power in Brussels, Paris and Berlin. https://t.co/fWAHOCVQWH

— Glenn Greenwald (@ggreenwald) June 10, 2021
While an incident in which Trump appeared to shove aside the prime minister of Montenegro while at a NATO summit in Brussels, Belgium did draw media attention in May 2017, the prime minister did not appear upset, nor were any criminal charges filed or medical records detailing deep scars or trauma released.
WHY IS THE BIDEN REGIME SO WEAK ON FOREIGN POLICY? NATIONAL FILE REPORTED: Tony Blinken, the Biden regime's Secretary of State, managed a Joe Biden project that received millions of anonymous Chinese donor dollars. Blinken appeared a handful of times in emails found on Hunter Biden's laptop agreeing to advise Hunter Biden when Hunter worked at the scandal-plagued firm Rosemont Seneca Partners. The Obama State Department set up a meeting between Hunter and Blinken which was postponed, and the two met two months later in 2015.
Hunter Biden coordinated introductions between Blinken and his associates, and Blinken was named in an email in connection to a shady prospective deal involving the federal government and Amtrak, a company that previously had Hunter Biden on its board. NATIONAL FILE, which obtained most of the contents of Hunter's laptop, features the most relevant Tony Blinken-Hunter Biden emails below.
Blinken served as managing director of the Penn Biden Center for Diplomacy and Global Engagement, founded in 2018 at the University of Pennsylvania by Joe Biden ahead of his presidential run. National Legal and Policy Center (NLPC) submitted a complaint obtained by NATIONAL FILE highlighting the organization's China funding.
"NLPC filed a major complaint with the Department of Education earlier this year demanding that the University of Pennsylvania and its Penn Biden Center disclose the identity of $22 million in anonymous Chinese donations since 2017, including a single eye-popping donation of $14.5 million given on May 29, 2018, shortly after the opening of the Biden Center in Washington, DC," NLPC stated.
"If Joe Biden and Tony Blinken don't explain their cozy relationship with Communist China through the Biden Center, any FBI background investigation and Senate confirmation hearing must get to the bottom of this secret money connection," NLPC Chairman Peter Flaherty stated.
"Not surprisingly, the Penn Biden Center has yet to criticize Communist China for its pandemic coverup for the coronavirus, co-hosting Penn's China Research Symposium earlier this year where the keynote speaker was China's top diplomat in New York. Yet, it has no qualms publicly attacking NATO allies Hungary and Poland for taking strong efforts to control the spread of the virus as being undemocratic even though US governors have exercised similar emergency powers," NLPC counsel Paul Kamenar stated.
Hunter Biden Received An Email About An Amtrak Deal In 2017 That Named Blinken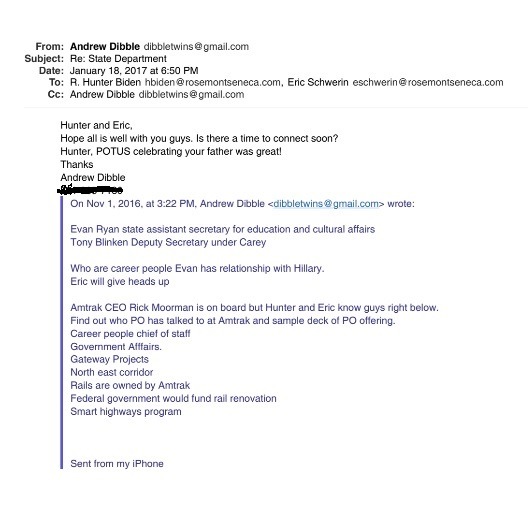 Blinken wrote to Hunter agreeing to a meeting with a Hunter associate, October 3, 2012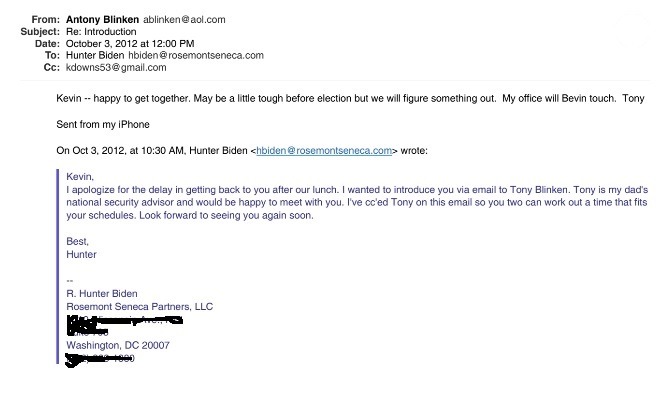 November 2012, Hunter tried to set up a meeting for his associate with Blinken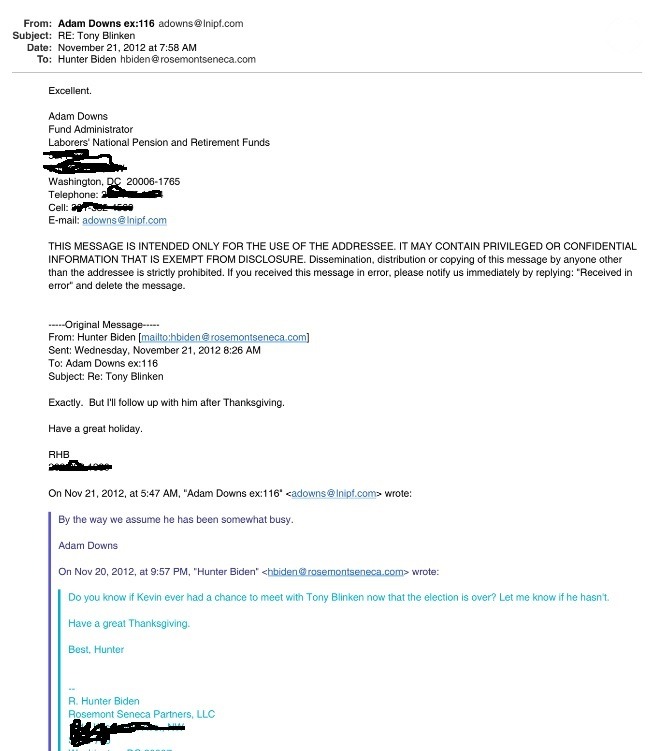 Meeting in May 2015: The Obama State Department actually SETS UP the meeting for Hunter with Blinken at the State Department. This meeting reportedly did not occur supposedly due to Beau Biden's death, even though Beau died three days after the meeting was scheduled, but Hunter met with Blinken in July 2015.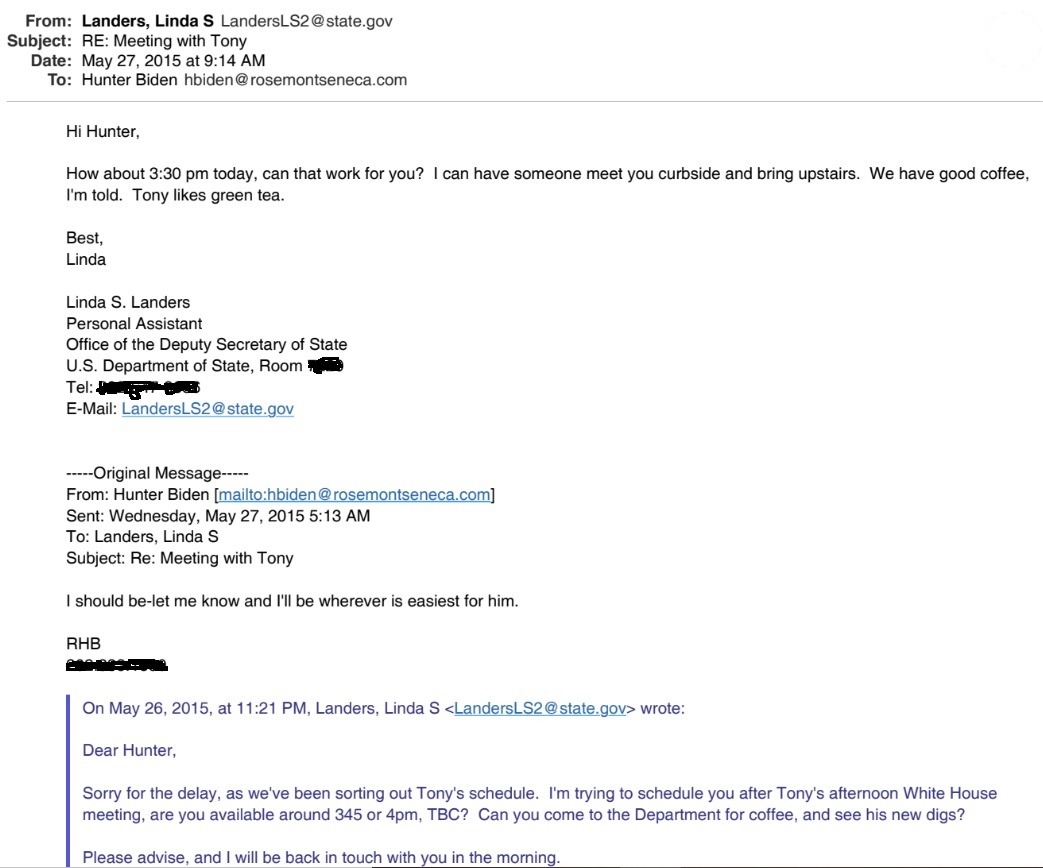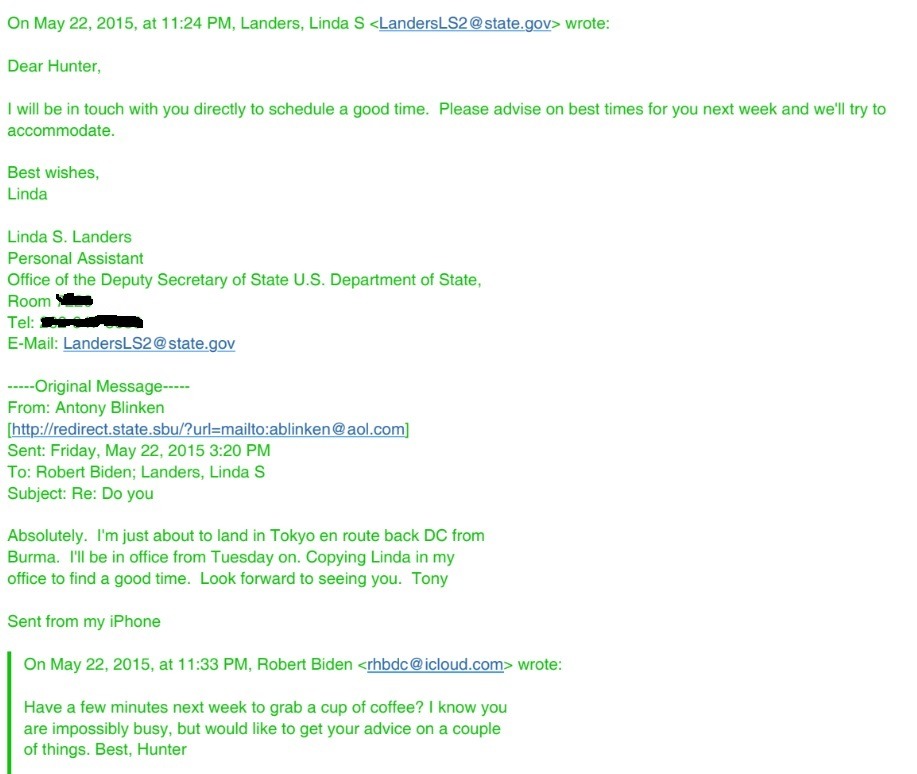 May 2015, Hunter's assistant at Rosemont Seneca discusses the scheduled Blinken meeting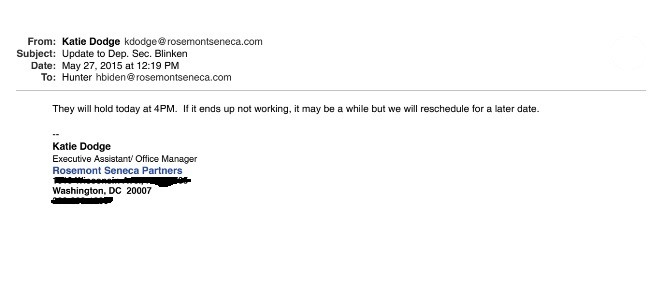 Hunter schedules a meeting in July 2015. This meeting did occur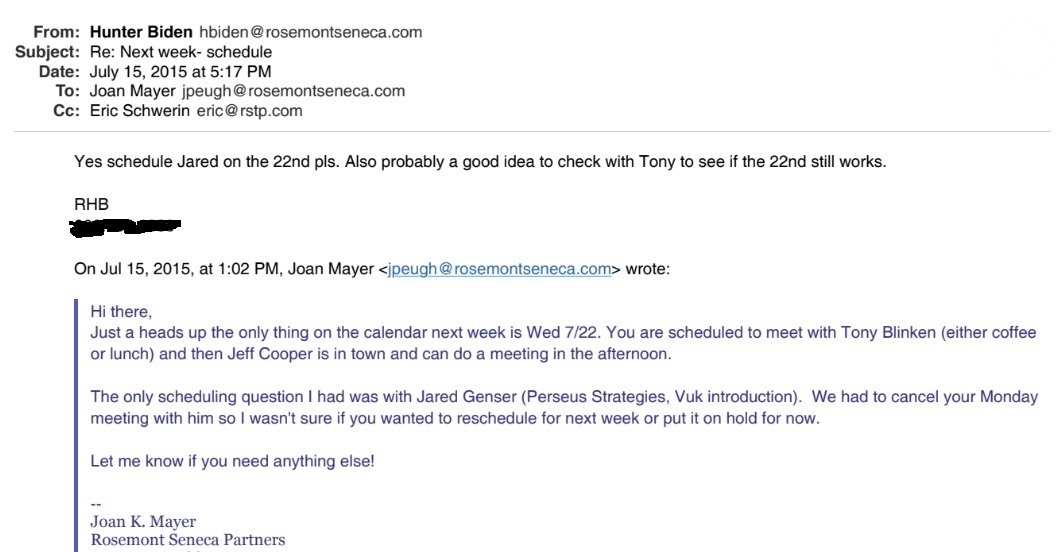 Naomi Biden Wanted to Go To China for a forum in 2019. Biden thought it was a "great opportunity" but Blinken said no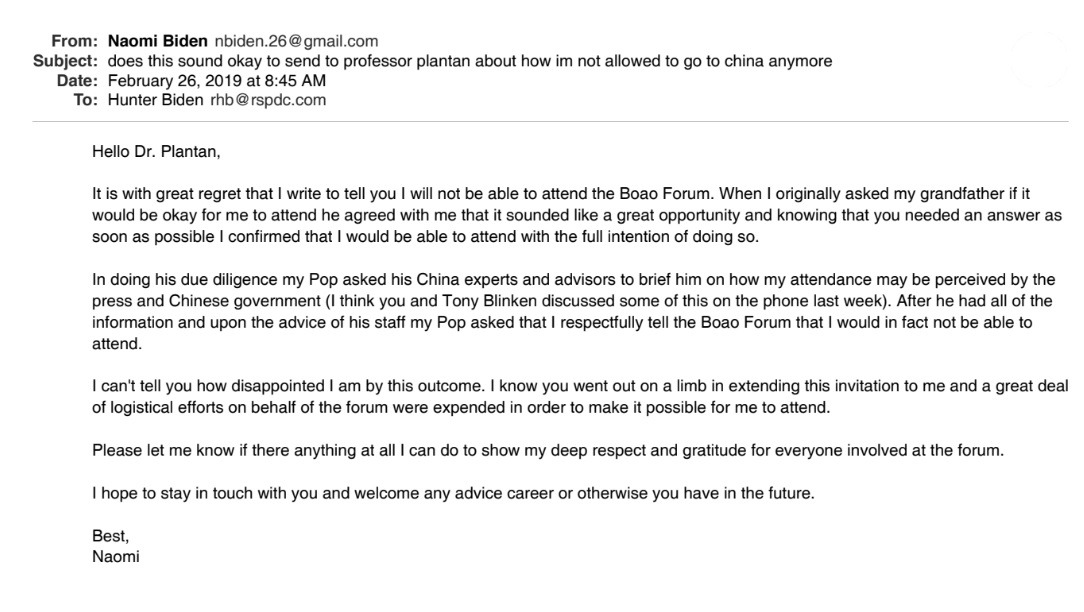 July 2011, Hunter Tells An Acquaintance to Inform Blinken That They Are Friends