Last Updated on April 28, 2020
Arizona Republican Governor Doug Ducey sits on the Board of Governors for an institute that is accepting state health department funding to conduct Coronavirus testing in the state of Arizona. That institute happens to be an affiliate of a nonprofit that is working to develop a Coronavirus vaccine that is not expected to begin clinical trials until late 2020. Insiders tell NATIONAL FILE that Ducey might not be a trustworthy leader in the cause of re-opening the state economy. Ducey is delaying setting a firm date on re-opening the state, citing safety concerns while testing is underway. Ducey presides over legislature-approved state emergency spending and also a portion of his state's $1.5 billion from the federal government.
Translational Genomics Research Institute (TGen) began its testing efforts for Coronavirus in early 2020, including working with the state government. TGen is testing samples for Coronavirus and is also working on creating a "statewide tracking network for COVID-19," according to a TGen press release. Governor Doug Ducey is currently listed as a member of the Board of Governors for TGen.
The Arizona state health department is funding Phoenix-based TGen to broaden the nonprofit group's lab capacity to produce Coronavirus testing. The Arizona Republic reported: "The department also said it has partnered with labs like Sonora Quest, TGen and the University of Arizona to provide funding that will allow them to increase their lab capacity."
TGen identifies itself on Twitter as "an affiliate of City of Hope." On the TGen About Us page, "TGen: An Affiliate of City of Hope," the group explains: "TGen has joined forces with City of Hope to accelerate the speed at which scientists and medical staff convert research discoveries into cures for patients. The alliance is based on a simple premise: City of Hope provides a state-of-the-art clinical setting in which to advance genomic breakthroughs made by TGen."
California-based City of Hope is currently working on developing a Coronavirus vaccine. City of Hope viral immunologist Don Diamond predicted in March that phase 1 clinical trials of City of Hope's vaccine could kick off in 6 to 8 months.
"We're working very hard to produce different candidates and will study them in various conditions to answer the questions that are unknown. We are not using the actual pathogen. We're using a carrier and made synthetic versions of the antigens, and we're inserting that into a carrier, what's known as a subunit strategy. City of Hope will initially develop the vaccine, but at some point we hope to have a commercial partner," Diamond
said on the City of Hope blog.
TGEN Board of Governors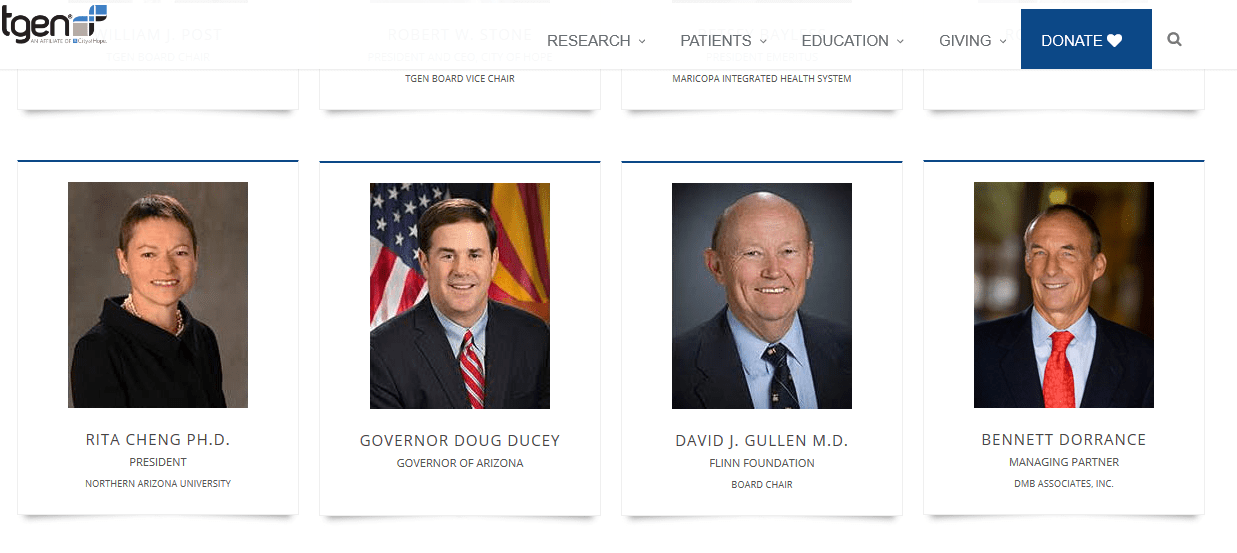 In March, the Flinn Foundation in Phoenix announced a $100,000 grant to TGen for Coronavirus testing. Also in March, Dawn Wallace, who worked in Governor Ducey's office, became a vice president at the Flinn Foundation.
A January 2020 Flinn Foundation item noted: "Two Flinn-Brown Fellows and the former senior program manager of the Arizona Center for Civic Leadership at the Flinn Foundation were recently appointed by Gov. Doug Ducey to new high-level state positions….Ducey appointed Flinn-Brown Fellow Daniel Ruiz as the state's chief operating officer and Fellow Trista Guzman-Glover as the director of boards and commissions. Ruiz, who joined the Governor's office in 2015, was previously Ducey's senior advisor while Guzman-Glover, who has served in various roles over the past five years, was most recently the director of constituent services."
TGen North in Arizona joined a tuberculosis research partnership in 2017 courtesy of a grant from the Bill and Melinda Gates Foundation, according to a press release. TGen received a sub-award from a $1.1 million Gates Foundation grant to a TGen partner organization. The press release stated: "The Bill & Melinda Gates Foundation has awarded the Critical Path to TB Drug Regimens (CPTR), an initiative of Tucson's Critical Path Institute (C-Path), a $1.1 million grant to enrich its Relational Sequencing TB Data Platform (ReSeqTB). Under a sub-award from C-Path, the Translational Genomics Research Institute (TGen) Pathogen Genomics Division, or TGen North, will sequence nearly 12,000 TB bacteria isolates from around the world."
The Flinn Foundation has funded C-Path, the TGen partner group that received the Gates Foundation grant for tuberculosis research.