Last Updated on January 28, 2021
Sergio Arellano, who lost the recent election for Chairman of the Arizona Republican Party to Kelli Ward and proceeded take the stage alongside Ward and call for unity, is now challenging the election results. National File recently obtained a background report on Arellano, which reveals he has a lengthy history of traffic offenses, including driving without a license or proof of insurance, and was once accused by law enforcement of passing bad checks.
In a statement that was apparently exclusively provided to USA Today affiliate AZ Central, Arellano demanded an audit of the recent Arizona Republican Party election, despite only approximately 1,300 total votes being cast.
As AZ Central reported, "'This isn't about the chairman's race, this is about election integrity," Arellano said in a written statement provided by [Kim] Owens to The Arizona Republic.'"
On Twitter, Arellano wrote about his decision to contest the election despite conceding, noting that he does not expect the audit to overturn the election results.
2) state committeemen are raising concerns and asking me to ask for an audit because only a candidate for party office can do so.  So I've done that and we're waiting for a response that lays out the when, where, and how of that process.

— Sergio Arellano (@SurgeArellano) January 28, 2021
The background report obtained by National File reveals that, since 2000, Arellano has been involved in several separate encounters with law enforcement for traffic violations ranging from mundane speeding citations to failure to drive with a vehicle's registration, a valid license, or proof of insurance. Arellano pleaded guilty to several of these charges.
Additionally, Arellano was accused of passing bad checks in 2002.
On September 1, 2000, Arellano pleaded guilty for failing to produce evidence of his car insurance and failure to carry his vehicle's registration.
Less than a year later, on January 17, 2001, Arellano was accused of driving without insurance. Though this was dismissed, at the same time, Arellano was accused of riding as a passenger in a vehicle drive by someone, ostensibly an adolescent, who only had an instruction permit to begin learning how to drive, when he himself did not have a driver's license. Arellano pleaded guilty to this charge.
Days later, on January 26, 2001, Arellano pleaded guilty to driving without a driver's license.
On August 10, 2017, Arellano was again alleged to be driving without proof of insurance and driving without a license or driving with a license that was suspended. These charges were dismissed by the prosecuting attorney.
This happened again, however, on May 8, 2018. The charge was, again, dismissed by the prosecuting attorney.
On May 16, 2018, Arellano had yet another charge alleging he was driving without a license dismissed. He pleaded guilty to failing to carry his vehicle's registration card at the same court appearance.
In a rare break from traffic violations, on March 4, 2002, Arellano was accused of issuing a bad check and then further accused of failing to appear before the court. These charges were later dismissed by the prosecuting attorney.
National File has contacted Arellano to ascertain whether he believes challenging the election results of a small, party-wide race will achieve his previous call for "unity." Additionally, National File asked Arellano whether he believes it is appropriate for an individual who has repeatedly pleaded guilty to serious traffic violations, and was accused of passing bad checks, to represent the Arizona Republican Party. We have not received a response.
A beautiful moment! @kelliwardaz @SurgeArellano #Unity pic.twitter.com/3CVxGPL648

— Arizona Republican Party (@AZGOP) January 23, 2021
National File contacted Arizona Republican Party Treasurer Bob Lettieri, who endorsed Arellano after coming in third place during the first round of voting to elect the next Arizona Republican Party Chairman. Lettieri expressed concerns about Arellano's character.
"He's a decent human being but I just don't think he has, let's say, the background and experience to hold that position," Lettieri told National File. "Or to be able to attract funding."
Arellano raised approximately $40,000 for his 2018 campaign for U.S. House. He did not make it past the primary, and only secured just approximately 7,000 in the primary, just over half of the winning candidate's 13,090 votes.
When asked about his thoughts on the accusation that Arellano once passed a bad check, Lettieri suggested Arellano has experienced a Christian transformation in his life, but cautioned against trusting him with the reigns of the Arizona Republican Party, warning that the person holding the unpaid position could "be influenced."
"He needs more time to put those bad experiences behind him," said Lettieri. "I would hate to think that he would be influenced. You know, the job doesn't pay, but you can be influenced."
National File also contacted AZ Central reporter Yvonne Wingett to determine whether they conducted any background research into Arellano's past prior to publishing their story. Additionally, National File asked AZ Central and Wingett how they communicated with Arellano to receive the statement they quoted. It remains unclear if Arellano's surrogate, Kim Owens, provided the statement exclusively to Wingett and AZ Central, or if Wingett obtained the statement from Owens. National File has yet to receive a response from AZ Central.
When National File spoke to Owens, she insisted that she and Arellano do not expect a potential audit to change the results of the election.
On January 21, Owens and other McCain-era politicians signed a letter calling for Ward to immediately abandon her reelection campaign. When asked about this letter, Owens told National File, "I said what I said at the time leading up to the election."
Owens refused to comment her belief, as stated in the letter to Ward dated January 21, that Ward should be blamed for Republicans' recent hurdles in the Arizona. Many contend that former Sen. Martha McSally should be blamed for lackluster Republican turnout instead.
After losing her U.S. House seat to a Democrat in 2016, McSally was later appointed to fill Sen. John McCain's seat in 2018. McSally went on to lose this Senate seat to Sen. Mark Kelly, a Democrat, in 2020.
Additionally, Owens serves as the Executive Director of Dodie Londen, an organization that trains female Republican candidates to win elections. At the head of the board is Lisa James, who, through her husband's company, worked with a political action committee that was in favor McCain's reelection campaign in 2016, when he defended his seat against Ward's primary challenge.
When asked about Ward's attendance in Dodie Londen's leadership training, and the potential political alliances represented by the organization, Owens repeatedly insisted "this has nothing to do with Dodie Londen."
The importance of Owens' connection to James and Dodie Londen is underscored by James' long history as an establishment Republican operator. As far back as 1992, James worked to elect President George H.W. Bush. In 2000 she worked to elect President George W. Bush. James went on to assist the campaigns of failed presidential candidates McCain and Mitt Romney in 2008 and 2012, and assisted anti-Trump Sen. Jeff Flake's successful 2012 Senate campaign.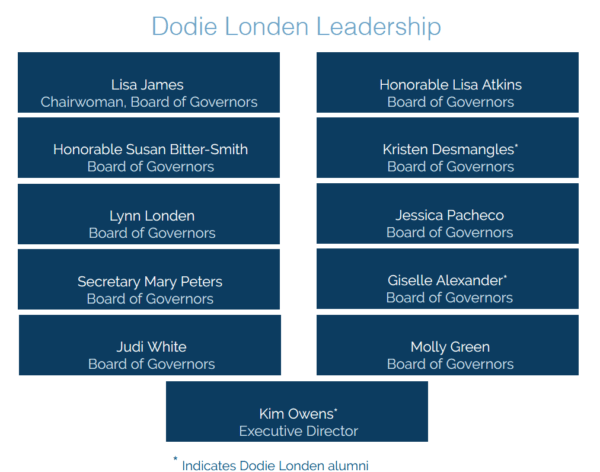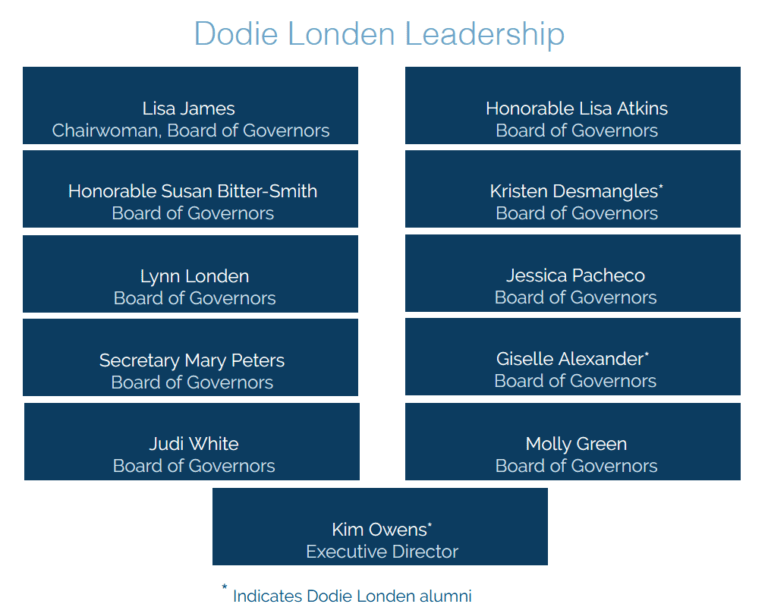 Additionally, as an employee of her husband's company, Gordon C. James Public Relations, James assisted McCain's 2016 primary battle against Ward through the Arizona Grassroots Action PAC.
Further, both Gordon C. James Public Relations and Owens endorsed Jeb Bush for president in 2016, and Lisa James was the point of contact in Arizona for Jeb Bush's campaign in 2016.
It is also notable that while Owens leads Dodie Londen, an organization meant to educate Republican women so they can win elections, in 2020 a court determined that Owens failed to secure enough valid signatures to qualify as a candidate for the Arizona Corporation Commission. According to the Associated Press, "the court ruled there was no reasonable evidence to conclude that enough of the signatures were valid."
Underscoring her apparent political alliances, Owens once referred to President Trump as a "cancerous lesion" on Twitter while using the hashtag #NeverTrump.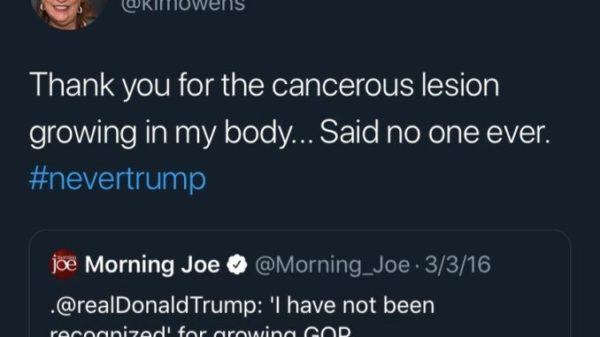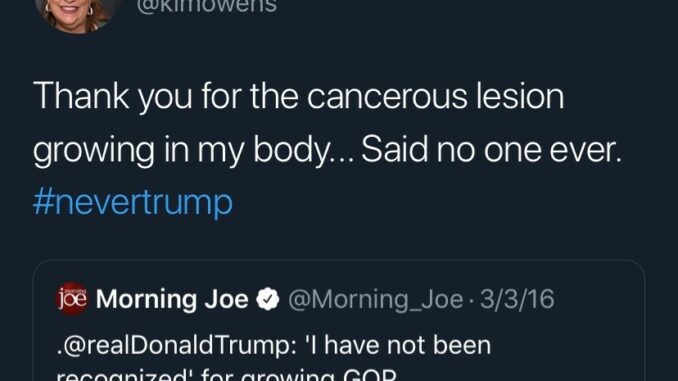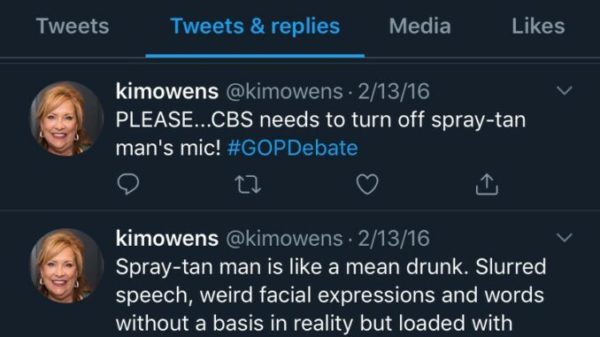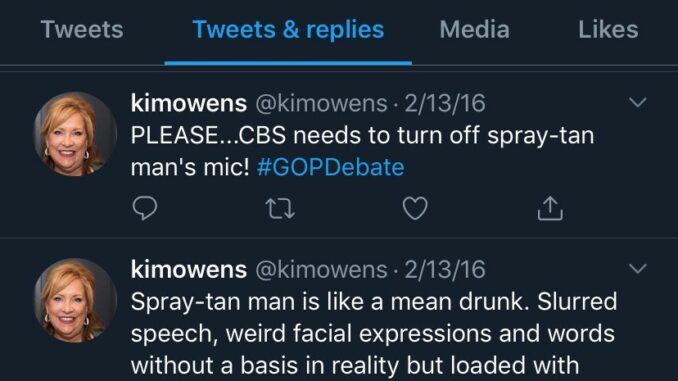 Arellano lost the election for Arizona Republican Party Chairman to Ward, with Arellano receiving 48.5% of the vote compared to Ward's 51.5%. Ward's reelection bid received the first post-presidency endorsement from President Donald Trump.