Last Updated on May 11, 2021
The 2020 election audit in Maricopa County, Arizona continues as Democrats and the liberal media struggle to try to discredit the efforts of the Arizona Senate Republicans and the Cyber Ninjas auditing team. Secretary of State Katie Hobbs, whose team is now monitoring the audit, has shown blatant bias, tweeting out the hashtag #fraudit. The Maricopa Arizona Audit official Twitter account told Hobbs to stop "attempting to disrupt the audit process."
Arizona SoS @katiehobbs has repeatedly called the forensic audit of Maricopa County's election ballots and machines the FRAUDIT. We invite her to stop fanning the flames of discord and attempting to disrupt the audit process.

— Maricopa Arizona Audit (@ArizonaAudit) May 10, 2021
Hobbs' anti-audit agitation is a stark contrast to the tone set by former Arizona Secretary of State Ken Bennett, who announced at a recent press conference that the audit is going as planned. "This is about wrong and right, and we want to be on the side of right," Bennett stated, remarking, "We're going to be able to tell every Arizonan in a few weeks that they have complete trust and integrity in their elections, or we have some parts of the election that needs to be improved." The Arizona audit has already yielded goods, with Maricopa County admitting to the auditors that their machines did not have an administrative-functions password.
The audit team was thrown for a loop when the judge presiding over the case, who appeared to be impartial, recused himself and was replaced by a different judge who is tied to one of the biggest Democrat-connected law firms in the country. NATIONAL FILE REPORTED:
An attorney who has intervened in the challenge to the Maricopa County 2020 election audit, Daniel C. Barr, is representing the First Amendment Coalition of Arizona. Barr is arguing before Judge Daniel Martin in the case, after Judge Martin allowed him to intervene. But there is a problem: Barr is a partner at the pro-Democrat firm Perkins Coie, where he has worked since 1985. Meanwhile, Judge Daniel Martin worked at Brown & Bain, which merged with Perkins Coie.
Daniel Barr is a partner at Perkins Coie, and identifies himself as counsel for the First Amendment Coalition, according to records. The Perkins Coie website lists Daniel C. Barr as a Phoenix-based partner at Perkins Coie. Justia Lawyers lists Barr as a partner at "Perkins Coie Brown & Bain P.A."


Barr joined Perkins Coie in 1985. Daniel Barr has officially intervened in the case before Judge Daniel Martin, according to records, on behalf of the First Amendment Coalition of Arizona. Meanwhile, Judge Daniel Martin has been listed as an attorney for "Perkins Coie Brown & Bain" on court documents. Martin worked for Brown & Bain from 1992 to 1996, and Brown & Bain merged with Perkins Coie in 2004.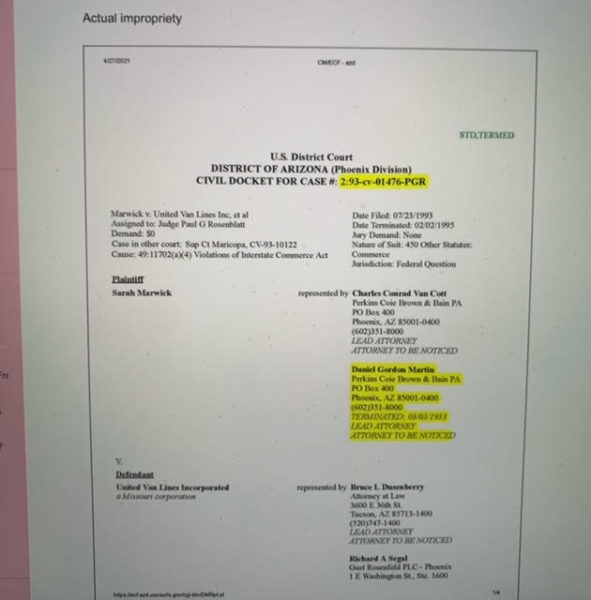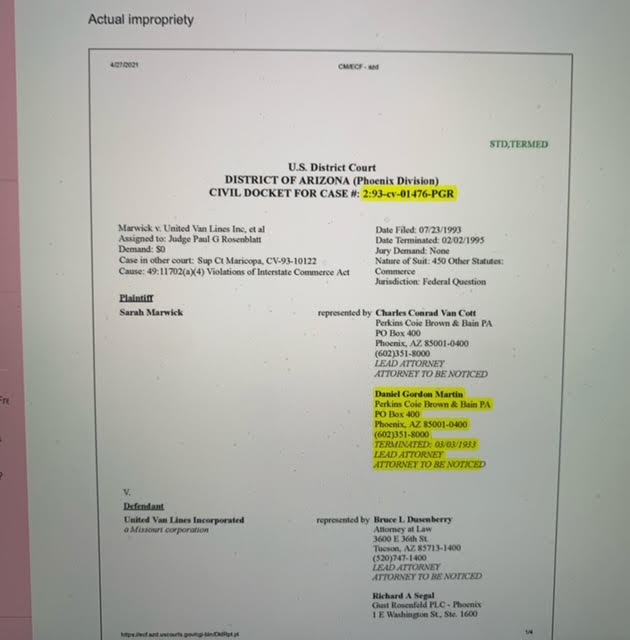 KAWC reported on how Judge Martin has allowed Dan Barr to intercede in the case, writing: "On Tuesday, Martin gave the First Amendment Coalition the right to intercede in the case. That came over the objection of attorneys for both the Senate and Cyber Ninjas who argued not only that the policies used to conduct the audit should be kept confidential but that any hearing on them should be closed. That ruling allow attorney Dan Barr to argue that the public has an interest in knowing exactly what is happening at the audit site and, more to the point, how the ballots and equipment are being protected — or not. "I question whether there are any trade secrets here to begin with," Barr told the judge. "I find that fairly dubious to begin with."…"I can't imagine a higher public interest here than the validity of the vote, the care that a private company gives to live ballots which are protected by the state constitution," Barr said." (KAWC passage ends)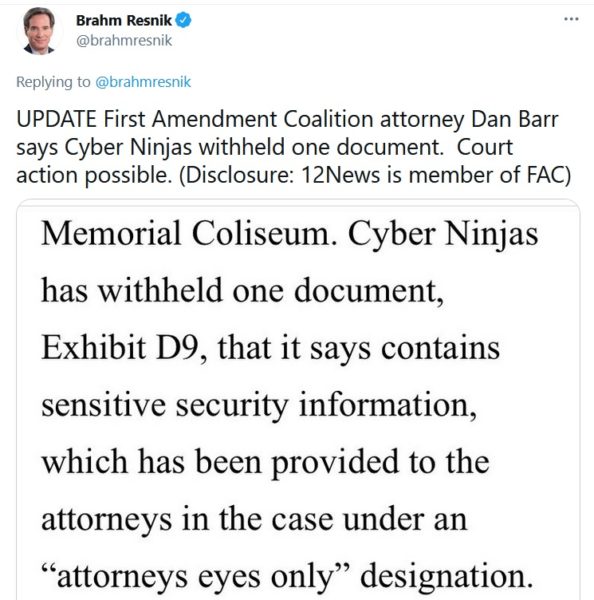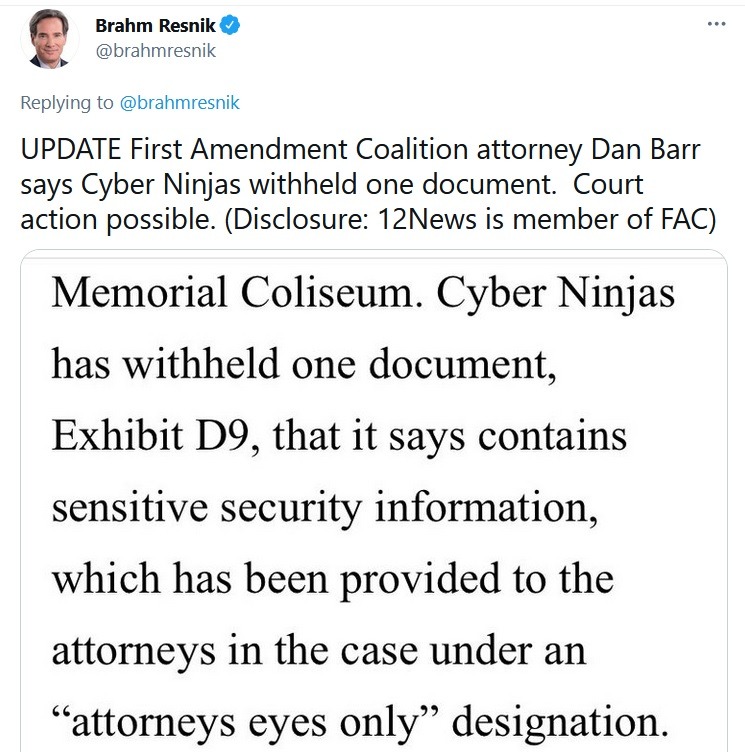 The Arizona Republican Party has long been an opponent of Dan Barr, running this ad about Barr in 2015:
NATIONAL FILE REPORTED: Judge Daniel Martin, who is now presiding over the challenge to the Arizona Senate Republicans' audit of the Maricopa County 2020 election results, worked for a firm that merged with Perkins Coie, the pro-Democrat powerhouse firm that is trying to shut down the Maricopa County audit.
Martin took over the case after the previous judge overseeing it, Republican Judge Christopher Coury, recused himself because a lawyer for the Cyber Ninjas auditing team previously working as an extern for Coury's office. That lawyer was not listed as a representative for Cyber Ninjas until recently, prompting Coury's recusal…A local NBC reporter said that the new judge Martin was initially appointed to a judgeship by former Democrat Arizona governor Janet Napolitano.
Judge Daniel Martin worked as an associate attorney for Brown & Bain from 1992 to 1996. In 2004, Brown & Bain merged with Perkins Coie, the massive pro-Democrat law firm. Perkins Coie has been active in the audit process on behalf of the Democrat Party cause. Perkins Coie officials signed a letter to the Arizona Senate president Karen Fann threatening legal consequences if they interpret that the Senate audit ends up breaking federal civil rights laws. The Arizona Democrat Party's lawsuit against the Republican Senate President Karen Fann, Cyber Ninjas and others was filed by lawyers for Coppelsmith Brockelman and Barton Mendez Soto, two firms that are linked to Perkins Coie by virtue of the fact that their firm officials also signed the threatening letter to the Senate president Fann that Perkins Coie officials signed. Martin's biography shows the apparent conflict of interest, with one bio mentioning that Brown & Bain is "now Perkins Coie."