Last Updated on November 28, 2022
Iran is calling for the United States Men's National Soccer Team to be kicked out of the FIFA World Cup after the US side altered Iran's national flag in a promotional graphic, to show support for feminist protesters. The American and Iranian national teams are set to play one another on November 29th.
The altered Iranian flag was posted to the official US Soccer Twitter account as part of a graphic showing the "Group B" standings in the 2022 FIFA World Cup, the group to which both the United States and Iran have been assigned. In what US Soccer has publicly said was a gesture of "support for the women in Iran fighting for basic human rights," the emblem in the center of Iran's national flag was removed.
US Soccer also says the omission of the emblem, which is associated with Iran's Islamic regime, is a one-time gesture, and that they will now return to displaying it when posting pictures of Iran's flag.
In Iran itself, political protesters, which encompass a wide range of issues but have been framed in the West almost exclusively around women's rights, have removed the center logo from Iran's national flag in an act of defiance towards the Islamic regime that's governed the nation for over 4 decades.
While historically supportive of Iran's Islamic regime and its nuclear ambitions, the left has turned against it lately, seizing upon the feminist narrative of the latest round of anti-regime protests.
"By posting a distorted image of the flag of the Islamic Republic of #Iran on its official account, the #US football team breached the @FIFAcom charter, for which a 10-game suspension is the appropriate penalty," Iran's Tasnim News Agency, which is closely associated with the Islamic regime, posted to Twitter.
"Team #USA should be kicked out of the #WorldCup2022," the Iranian news agency concluded, though it doesn't appear the US team should actually anticipate any punishment for the flag posting.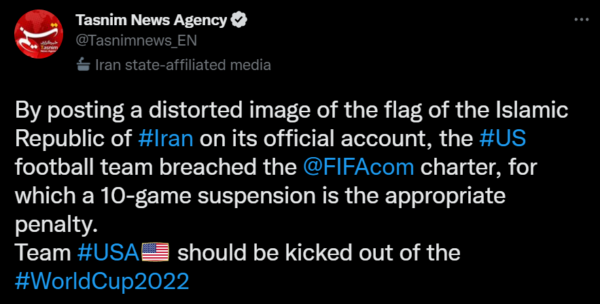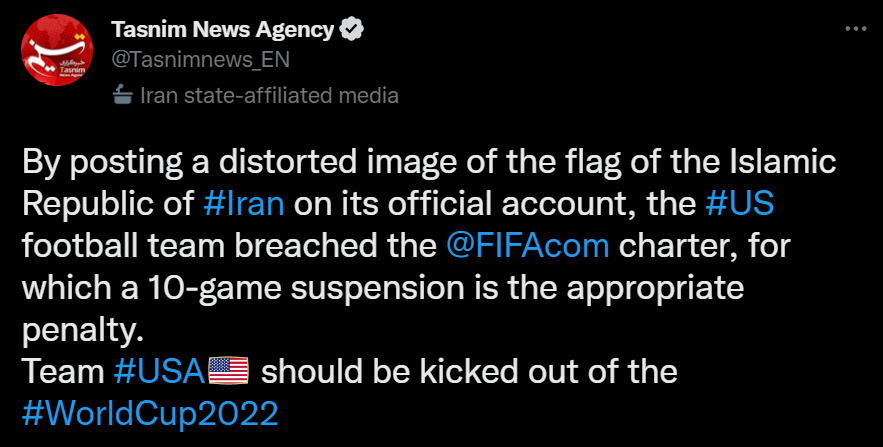 The Iranians aren't the only ones that the US National Team has ticked off when it comes to altering national flags for social causes at this year's World Cup, though.
The Iranian flag "gesture" comes on the heels of the US National Team's LGBT overhaul of their own country's flag, which has outraged the American People.
Ahead of the 2022 World Cup, it was announced that the US Men's Soccer Team had replaced the red American flag stripes symbolizing the 13 original colonies with rainbow stripes symbolizing homosexuality, transgenderism, and the far-left Black Lives Matter organization.
Though the US team has apparently backed off the design, wearing the real thing on their jerseys thus far, they've used the rainbow design as a promotional item throughout the 2022 World Cup, which is taking place in Sharia-Islamic Qatar and generating billions upon billions of dollars worth of revenue.