The Alabama Republican Party's Steering Committee has officially announced that the state GOP won't be backing Ronna Romney McDaniel for Chairman of the Republican National Committee in the upcoming party boss election, declaring a vote of "no confidence" in Romney McDaniel's leadership and calling for a new, pro-America chairman in a public statement.
"The Alabama Republican Party leadership is committed to representing our grassroots members, and defending the core conservative values that the people of Alabama stand for," the statement reads, listing out some of their top reasons for opposing the niece of Mitt Romney as RNC Chair.
Among them are Romney McDaniel's massive electoral failures and the liberalization of the Republican Party's national agenda, at the expense of the American People and their culture.
"We believe that RNC leadership needs a new vision for future elections," the Alabama GOP declared in their statement, opposing Ronna Romney McDaniel.
"We believe that the RNC needs to make defending the American people are their God-given rights and freedom a priority."
"We believe that the Republican Party needs to stand strong for the party platform, and the principles that made this country great."
"We believe that the RNC needs fresh, new leadership who can inspire and lead grassroots Republicans to victory," the statement went on.
"For these reasons, the Alabama Republican Party's Steering Committee cannot support or endorse Ronna [Romney] McDaniel for RNC Chair and declare our vote of no-confidence in her leadership. We encourage all RNC members across the country to support new leadership at the RNC Winter Meeting," the statement concluded.
Read the full statement from the Alabama GOP, as they call for the removal of Ronna Romney McDaniel as RNC Chair, below: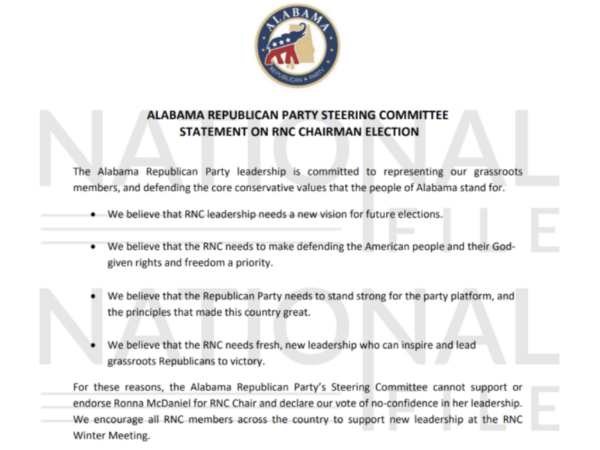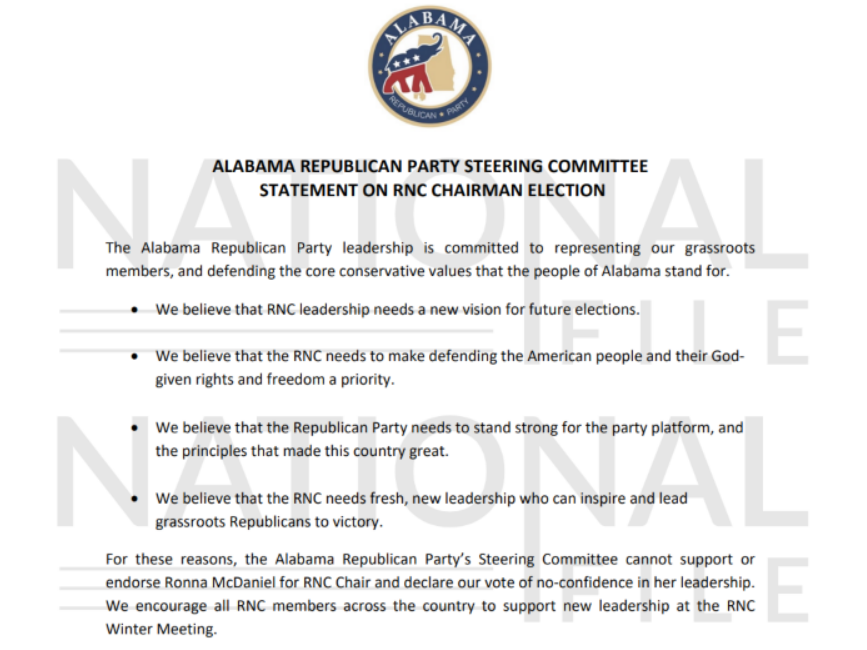 The Alabama GOP's statement against RNC Chair Ronna Romney McDaniel's re-election campaign comes as she faces previously unprecedented calls for her replacement among grassroots conservatives and national figures alike.
The Texas GOP has already called for her removal as RNC Chair, and a supermajority of Republican voters support her removal as well.
As exclusively broken by National File, MyPillow CEO and election integrity activist Mike Lindell has announced a campaign to challenge Romney McDaniel for RNC Chair, citing her "failed" leadership in a statement of his own.
"Ronna McDaniel has failed in her leadership," Mike Lindell told National File, after revealing that he'll take her on to lead the RNC. "We need a new input to get a different output."