Last Updated on May 31, 2022
The Ramstein Air Force base decided to cancel its "Drag Queen Story Time" event that was scheduled for June 2. A base library planned on hosting the event for young children of servicemembers, though it was cancelled after Senator Marco Rubio (R-FL) sent a letter to commanders. The story was first reported by National File's Patrick Howley on May 24.
"The US Air Force is officially holding a drag queen story hour for children at their Ramstein AF Base Library. Really sick stuff," a source told National File last Tuesday.  "My tax dollars are being used by the military to sexualize children."
The source then shared an image of a Facebook advertisement for the event.
"We're celebrating Pride Month at the Ramstein Library with Drag Queen Storytime! Join us with special guest reader Stacey Teed! Be sure to wear your brightest and most colorful outfits!" reads the event announcement, which was posted by the Ramstein & Vogelweh Air Force Libraries Facebook page.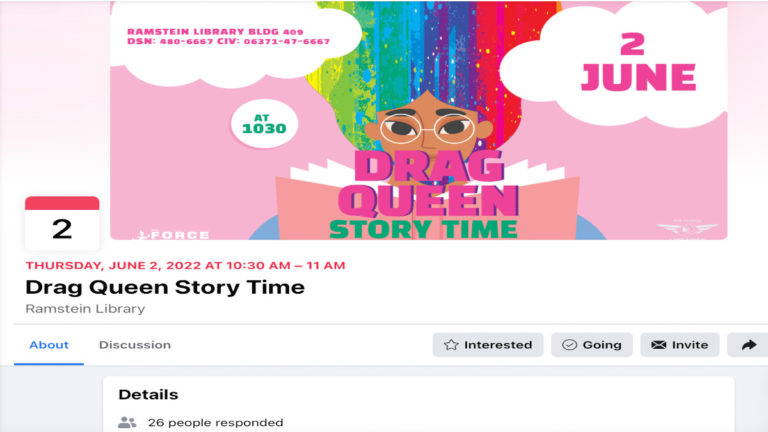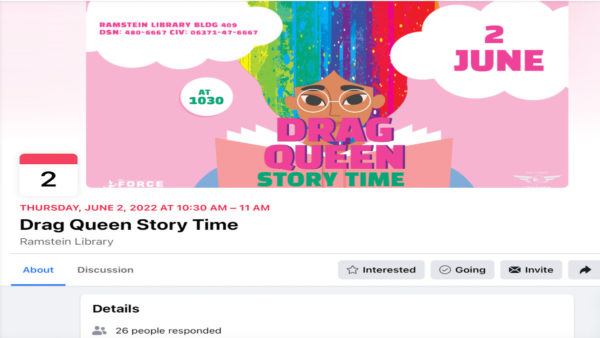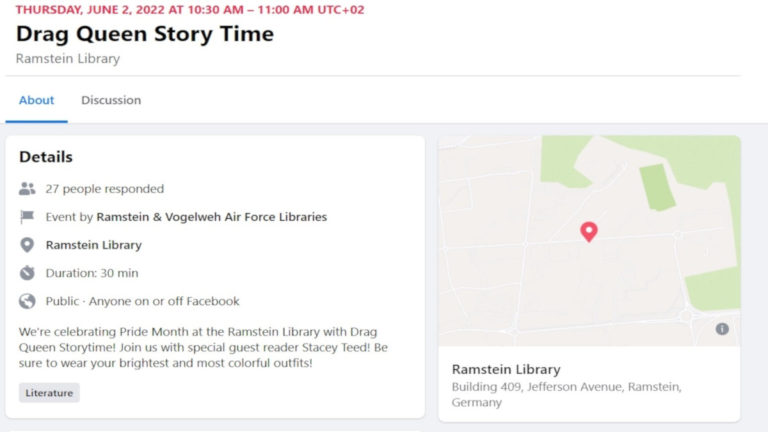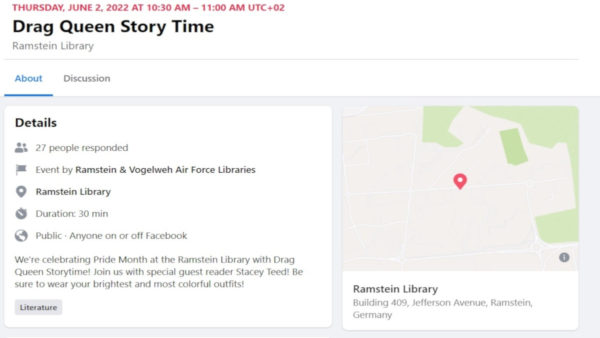 After National File's report, Senator Marco Rubio (R-FL) sent a letter to U.S. Air Force Secretary Frank Kendall demanding that the "sexually charged" event be cancelled.
"The last thing parents serving their nation overseas should be worried about… is whether their children are being exposed to sexually charged content simply because they visited their local library," Rubio wrote in the letter.
"I urge you to immediately cancel this politically divisive event, and take appropriate disciplinary action against all involved in allowing this gross abuse of taxpayer funding to place children in a sexualized environment," the Senator continued.
Rubio went on to call for disciplinary action to be doled out to those responsible for scheduling the event.
"As I hope you can agree, decisions over children and their bodies should be left to moms and dads serving our nation, not mediated through publicly funded propaganda on U.S. Air Force bases," the letter added.
According to Rubio's letter, a flyer for a similar event held last year "highlighted the apparent inclusion of a controversial book, 'The Hips on the Drag Queen Go Swish, Swish, Swish.'"
The author wrote the book so that children could "experience the magic of drag and to get a little practice shaking their hips or shimmying their shoulders to know how [they] can feel fabulous inside of [their] own bodies," Rubio claimed.
After increasing backlash, the Air Force base decided to cancel the event.