Frontex, the border agency of the European Union (EU), reported that upwards of 275,000 migrants entered bloc countries in 2022, the most since 2016. The report comes just as the United States wrapped up its 2022 fiscal year in which U.S. Customs and Border Patrol encountered a record number of migrants on the southern border.
According to the report, more than 275,000 illegal entries were recorded on the year, a 73 percent increase over the same period in 2021. Frontex recorded more than 36,000 migrant encounters in October alone, a 47 percent increase over the same month in 2021.
When breaking down encounters by region, the Wester Balkan route remains the most active while exits towards the U.K. increased by 70 percent. Entry through the Eastern Mediterranean accounts for the second highest increase in Europe-bound migrants, while the Western Mediterranean entry point through Spain and Portugal has seen a decrease.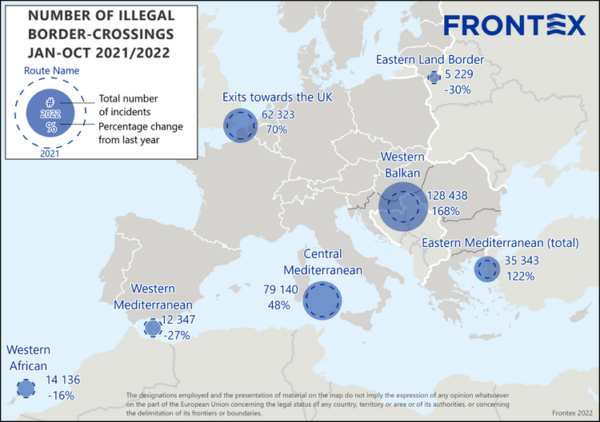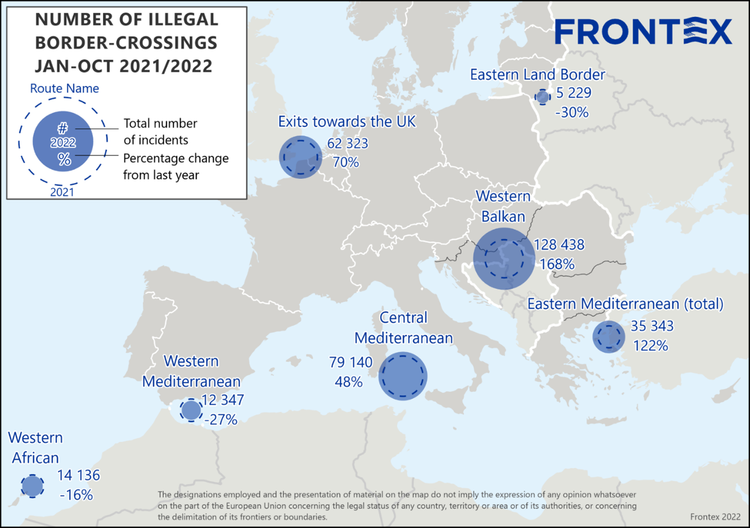 "So far this year, the Western Balkan region has registered the highest number of detections since the peak of the migration crisis in 2015," reads the report. "The high number of crossings can be attributed to repeated attempts to cross the border by migrants already present in the Western Balkans, but also to persons abusing visa-free access to the region. Some migrants use visa-free access to travel through Belgrade airport and then head overland towards the EU external borders."
In response to the volume, Frontex has deployed an additional 500 border patrol officers to the region, the agency stated. Common nationalities passing through the region include Iraqis, Afghans and Burundians.
The Central Mediterranean route to Italy accounts for the second-largest total flow of migrants into the EU, with 79,000 entering through that point over the past year. Italy's new prime minister, Giorgia Meloni, has vowed to overhaul the country's ability to halt the migrant flow.
At the English Channel, U.K. border authorities detained 62,323 migrants, a 70 percent increase compared to the same period in 2021.
Record numbers of migrants are illegally crossing the English Channel in small boats with more than year 40,000 illegal immigrants having crossed the English Channel this year alone.

FULL REPORT from @CSmiles_News: https://t.co/mK7OwIYrMJ pic.twitter.com/KX7Hv1qGJS

— Rebel News (@RebelNewsOnline) November 15, 2022
While the EU experiences its most significant migrant flow since 2016, the United States is also dealing with a record number of migrant encounters. In the fiscal year 2022, an astonishing 2,378,944​ migrant encounters were recorded by U.S. Border Patrol, the highest ever in a fiscal year. This figure does not include 599,000 ​known "gotaways" that evaded capture on the year, the New York Post reported.