Last Updated on November 23, 2022
Recent polling on the 2024 Republican Presidential primaries has envigorated Trump supporters.
A recent Morning Consult/Politico-led poll suggests former President Donald Trump has much more support for a 2024 bid than Florida governor Ron Desantis.
The poll, released Wednesday, was answered by 849 registered voters and Trump out beat Desantis by a significant margin. 45% of the poll participants offered support for Trump while on 30% chose Desantis.
Other options, like former Vice President Mike Pence, Texas Senator Ted Cruz, and 2012 Republican presidential candidate Mitt Romney, received 7%, 3%, and 2% respectively.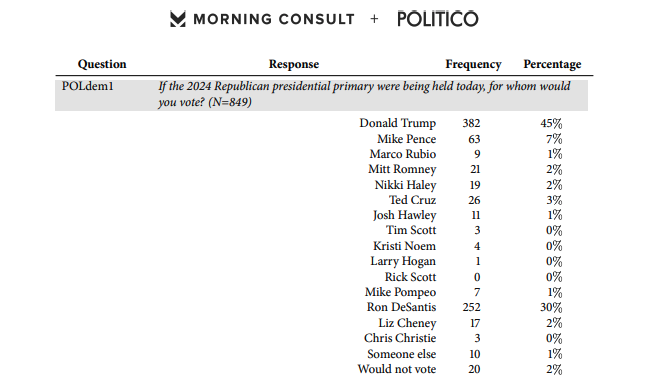 Another poll, led by Emerson College Polling, recorded 55% of the registered voters it surveyed being supportive of Trump in the 2024 GOP primary while a measly 25% preferred Desantis.
Interestingly enough, Trump is the only Republican preferred over Biden in a 2024 national presidential election, according to the Emerson poll results
"In a potential 2024 Presidential Election between President Biden and former President Donald Trump, Biden holds a four-point lead over Trump, 45% to 41%. Nine percent would support someone else and 6% are undecided. If Florida Governor Ron DeSantis were the 2024 nominee, he trails Biden by four, 39% to 43%; 11% would support someone else and 8% are undecided," the survey's summary states.
National File previously reported on certain members of the Republican party being desirous to oust a Trump 2024 run with Desantis:
The GOP Establishment is plotting to supplant 45th President Donald J. Trump on the party's 2024 ticket with Glenn Youngkin, Ron DeSantis, or even Tim Scott, says Paul Ryan, who left Washington after being overpowered by the America First wing of the GOP.
Ex-GOP Speaker of the House and failed Romney running mate Paul Ryan told a "closed conference" of corporate heads this week that the party's 2024 presidential nominee will be "someone other than Donald Trump."
"I think Trump's un-electability will be palpable by then," Ryan said at the corporate conference, predicting that the GOP establishment will push Trump aside when the time is right.
"There's a handful of people that are going to run because it's the only cycle they can run in. They can't wait until 2028," Ryan said.
"Whether he runs or not, I don't really know if it matters," he said of President Trump. "He's not going to be the nominee."
Though he's left Washington, Ryan is still a leading establishment figure and maintains close ties to GOP insiders and elected officials.
READ MORE: Paul Ryan, GOP Establishment Plot to Supplant Trump With Youngkin, DeSantis in 2024
Stay tuned to National File for any updates.