Last Updated on March 10, 2021
A middle school in New York is mandating "Double masks" for all students beginning March 15, according to a principal's message posted to a parents' group. East Hampton Middle School principal Dr. Charles Soriano said that "Double masking — wearing a disposable, medical procedure mask underneath a cloth mask — will be a school requirement" and "This is not optional."
Soriano cites CDC guidelines to bolster his mandate, and stresses, "If your child comes to school in person, he or she is expected to arrive fully double masked according to what our District's medical advisers have ordered for our building." Here are screenshots of Soriano's message on the parents group, provided to NATIONAL FILE by Face Freedom crusader Chris Nelson. Principal Soriano could not be reached for comment.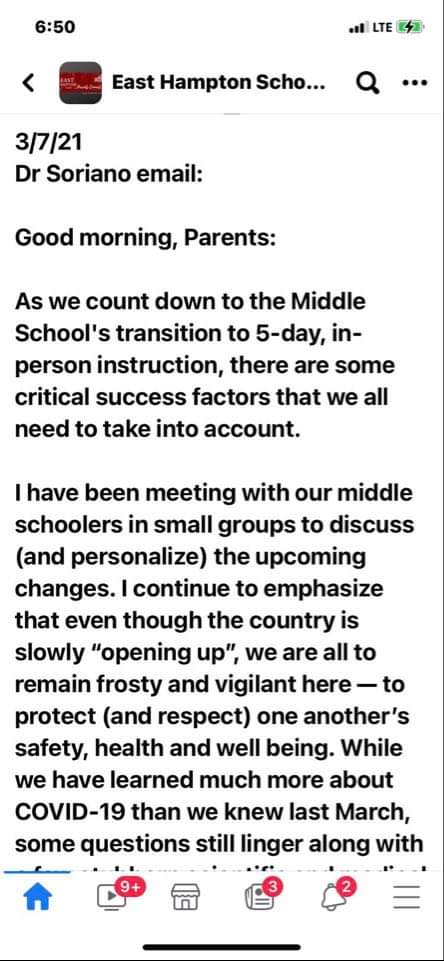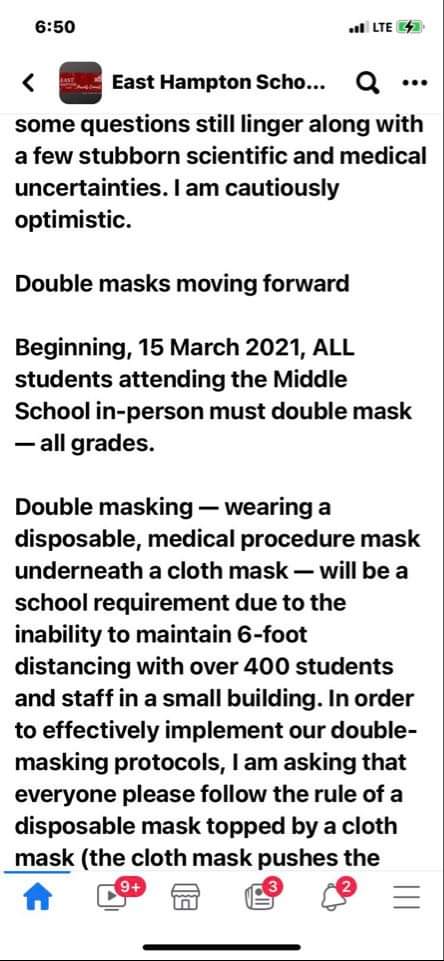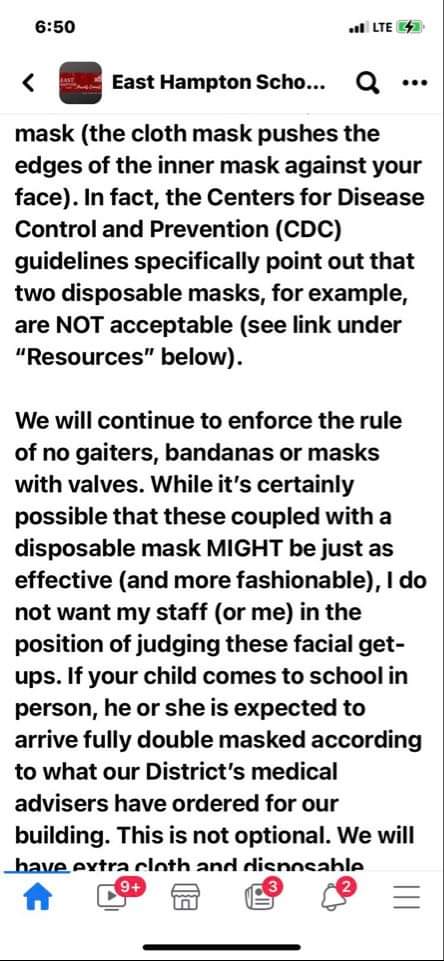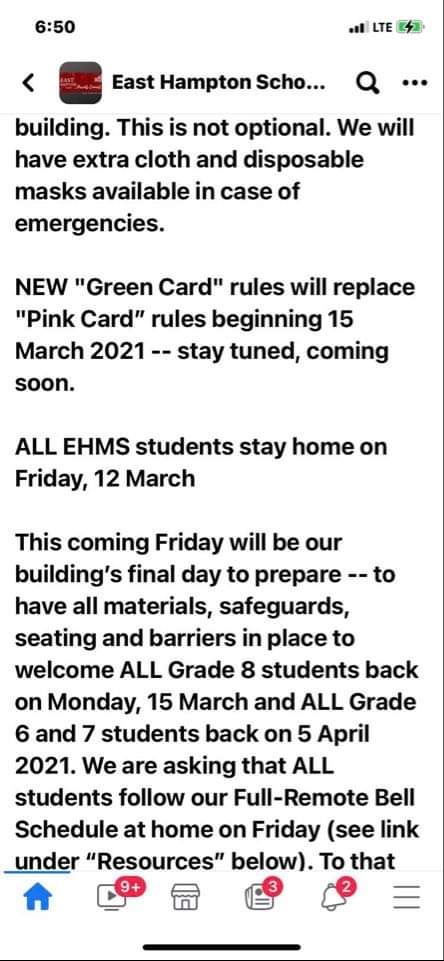 School masking is having tough consequences for children around the country. NATIONAL FILE reported:
A concerned mother is speaking out after her teenage son was arrested and handcuffed at his public school for not wearing a facemask during his anxiety attack. Alexis Rodriguez tells NATIONAL FILE that she received a call from police that she will never forget.
"I felt I couldn't believe it when I first got the call from the police officer. My son's rights were taken away from him just because he didn't wear a mask. It was devastating as a parent. It was devastating," Rodriguez told NATIONAL FILE, referring to her 16-year old son's arrest in September at Winter Springs High School in Seminole County, Florida. Rodriguez said that the boy's teacher had him arrested. The student was initially charged with Not Complying With A Mandate or Order, which could have landed him in jail for 60 days or six months' probation. The state decided not to move forward with the charge — but not until after the boy was slapped with extended home confinement and a GPS ankle monitor.
"He was handcuffed, brought to the juvenile detention center, then released on an ankle monitor — 13 days on a GPS ankle monitor. We went to court on October First and the state dropped all charges," Rodriguez said. "My son doesn't want to attend school at all. He is having difficulties sleeping, eating, anxiety. It has caused a lot of damage. We are in the process of leaving the county and going to another county."
Rodriguez said that she wants other parents to hear what happened to her boy. Rodriguez seeks "Awareness that this is complete government abuse that is going on in our school system for students with a disability or inability to keep on the mask. There need to be accommodations so they can take off the mask and breathe fresh air. This is tyranny in our school system now. We were in the process of getting a mask exemption so the school had his medical records."
"When my son was having his anxiety attacks, he was just expecting to get some water, and they called the cops! He was having an anxiety attack," Rodriguez said.
Mrs. Rodriguez has retained legal counsel and plans to file one or more lawsuits. Her lawyer, Jose Rivas, told NATIONAL FILE that the misdemeanor the boy was initially charged with contains an exception in it for people who cannot wear masks — but the exception was ignored during the boy's arrest. Rivas said that "we are still in the investigation stage" of their work for Rodriguez.
Attorney Jose Rivas stated, "The Rivas Law Firm has been retained to represent the teenage son of Mrs. Alex Rodriguez, AP, a 16 year old young man who was wrongfully arrested for not wearing a mask. On September 17, 2020 AP was attending school at Winter Springs High School in Seminole County, Florida. AP has difficulty breathing due to anxiety and other mental health and emotional issues. Due to AP's conditions in the days before his arrest, his mother had been seeking a medical exemption so that her son would not have to wear a mask. At the time of AP's arrest, AP was having an anxiety attack and was told by his teacher that he had to wear a mask while at school. AP was confused as to why he had to wear a mask while at school because his family had told him that he would be getting an exception. AP did not behave in a violent fashion nor did he do anything that would justify the police being called. The arrest of a 16 year old boy is a classic example of government abuse. Children should be treated with compassion, fairness, and understanding. We will be seeking just and fair compensation for the illegal arrest of AP and the harm that this action caused him."
Winter Springs High School did not return a request for comment by press time.