Last Updated on December 3, 2019
Suzzanne Monk, a woman who hand-crafts and sells limited edition "President Nutcracker" Trump-themed nutcrackers, is temporarily banned from posting on Facebook and advertising her business.
Monk was told by Facebook last week that a post she made about religion had violated the "Community Standards" and as such she would be blocked from using Facebook features for 30 days.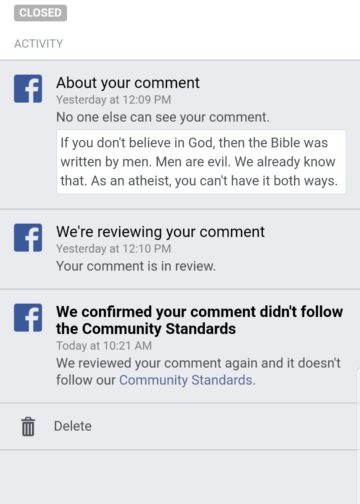 It's possible the Facebook algorithm flagged "men are evil" as a sexist phrase, but given that Facebook upheld their decision after an appeal request by Monk, the situation is still confusing (appeals are supposedly handled by real employees at Facebook).
National File reached out to Monk, who confirmed that this was not the first time her business has been negatively impacted by Facebook's inconsistent enforcement of its Community Standards.
"I had been in Facebook jail twice before this month for sharing memes that named the whistleblower," Monk said. "Both my main account and back up account with the same name are blocked, but my back up does not get the Facebook jail message, it just won't allow me to post or use Messenger without explanation. They recently have stopped me from posting as President Nutcracker on his page because I must prove that I am actually President Nutcracker. They refuse ads for ridiculous reasons."
Screenshots were provided of Facebook refusing to run ads because administrators on the page running the ad "have not yet certified compliance with our non-discrimination policy."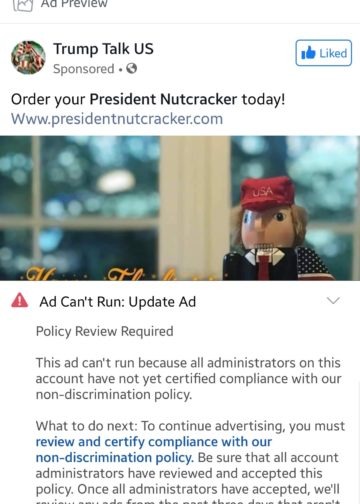 "It's been a pattern of suppression, a death by a thousand cuts over two years since we launched," Monk added.
Monk designed President Nutcracker in 2017 after discovering there were no Trump-themed nutcrackers in circulation for her to add to her collection:
I designed President Nutcracker in 2017 when I went to find a Trump Nutcracker to add to my nutcracker collection and found none. So I made myself one. He was so adorable, a friend with manufacturing experience offered to help me have a limited edition produced. We have a mixed production, the base Nutcracker was made in the factory, but each one is then hand detailed by me into the beautiful final product. I personally spend 3 hours pouring over each detail of the final Nutcracker, and they are signed and numbered, one of 1000. We are currently shipping in the 300s of that 1000,and have Nutcrackers in nearly every state in the union. KellyAnne Conway owns number 4, Melania Trump was delivered number 1 by KellyAnne Conway herself.

I made him because a Trump Nutcracker needs to exist, and because it helps me to afford my political efforts via my podcast, my writing and other pro Trump activism. I also use President Nutcracker to help pro America groups or candidates. He has been donated to the Angel Moms as a raffle fundraiser and to Oregon Women For Trump as their voter registration drive prize. Other donations of auctionable Nutcrackers have been to support candidates who support Trump. So he is quite a prolific little Nutcracker.
While Monk is unable to advertise her business on Facebook for the foreseeable future, her President Nutcrackers can still be viewed and purchased at
presidentnutcracker.com.