Last Updated on December 26, 2021
Members of Congress are now distancing themselves from Mark Epstein's Humpty Dumpty Institute after National File uncovered the organization's alarming ties to the Chinese Communist Party, People's Liberation Army, and globalist elites in early November.
On November 12, National File published an exclusive report pertaining to the Humpty Dumpty Institute (HDI), a mysterious nonprofit once run by Jeffrey Epstein's brother that has alarming ties to the United Nations (UN), US State Department (DOS), multiple members of Congress, the Chinese Communist Party (CCP), People's Liberation Army (PLA), and global elite.
Among several Congressional Democrats, including Reps. Adam Schiff, Maxine Waters, Sheila Jackson-Lee, Al Green, Bennie Thompson, Jim Himes, Frederica Wilson, and Hank Johnson, former House Freedom Caucus Leader and former Chief of Staff for President Donald Trump Mark Meadows was listed as a member of the organization's Congressional Advisory Board (CAB) for several years, but has since distanced himself from the organization during a contentious interview with radio host Stew Peters.
Aside from Peters and National File, the HDI revelations went largely unnoticed by conservative media for over a month. However weeks later on December 21, the Washington Examiner finally reported on the HDI's partnership with the Taihe Institute, a Beijing-headquartered think tank headed by several CCP, Chinese military, and globalist officials, claiming to have "research centers" operating within the United States. That same day, Breitbart published a follow-up article detailing the findings published in the Washington Examiner report.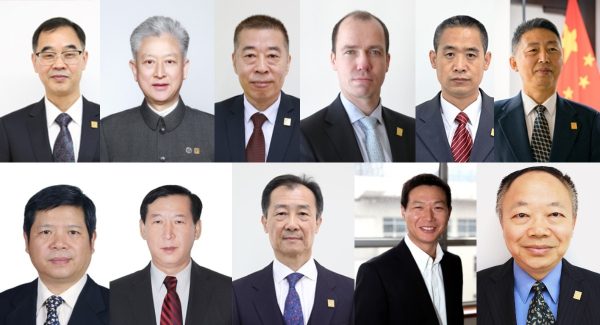 In the report, the Washington Examiner found that a shocking 7 Republican members of Congress currently sit on the HDI's CAB. Some of those Congressional Republicans subsequently distanced themselves from the HDI, and in one case issued a strong condemnation of the organization.
"It comes as a complete surprise to me that I am listed as a member. I was never notified by the Institute that I was named to the 'Advisory Board,' and I have had no interaction with the Institute at all since 2019, when I traveled on one sponsored trip to the Port of Antwerp as a member of the Ports Caucus," Republican Rep. Andy Harris told the Washington Examiner.
Republican Rep. Gus Bilirakis  claimed to have submitted his resignation from the HDI after learning of their links to the CCP and Chinese military. "I agreed to work with your organization to educate people on religious persecutions taking place throughout the world and to be an advocate for freedom," Bilirakis wrote in a letter the HDI. "So, you can imagine my alarm and distress when I learned about recent revelations of HDI's connections to the Chinese Communist Party."
"It is particularly abhorrent to me to be associated with an organization that has ties to a government widely known to actively support infanticide, engage in forced sterilization, exploit slave labor, and persecute religious minorities and political dissidents," Bilirakis added.
The report added that none of the Democratic members of the HDI's CAB, which include Rep. Maxine Waters, Rep. Debbie Wasserman Schultz, and Rep. Mark Pocan, returned requests for comment. Interestingly enough, Democratic Rep. Al Green was removed from the HDI's CAB on their website "between Monday and Tuesday, but Green's office did not return a request for comment asking if he resigned from his position on the advisory board."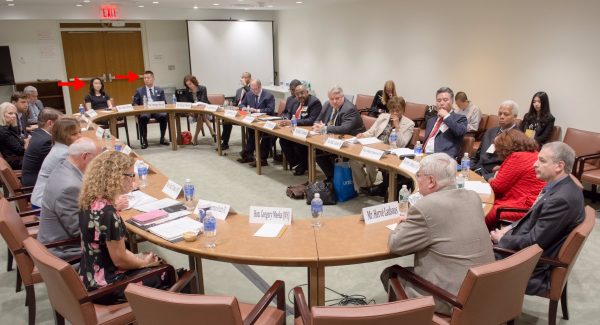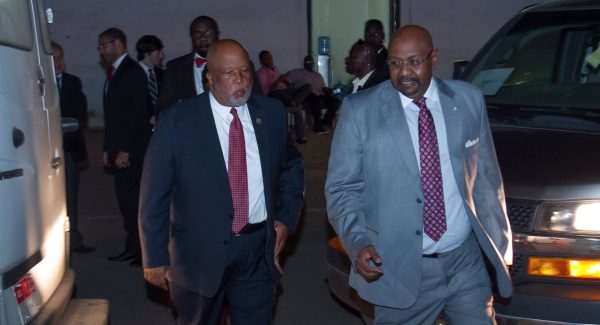 The HDI appears to have facilitated meetings between Chinese military-linked Taihe Institute leadership and Congress in the recent past, as seen in the photograph above depicting Taihe Institute Chairman Binge Ping, former HDI Director and Taihe Institute Fellow Ruby 'Yuyun' Wang, HDI Chairman Al Khalafalla, HDI Director Joseph Merante, alongside Congressional Democrats Reps. Wasserman Schultz and Johnson.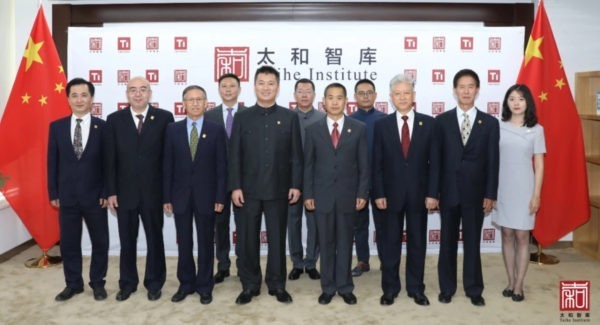 Ping and Wang were also observed alongside HDI Chairman Al Khalafalla and HDI Director Merante during a Chinese military-style ceremony in which the individuals bestowed a decorative basket of flowers before a tall statue of Mao Zedong, at what appears to be the birthplace of communist Chinese dictator in the Shaoshan, Hunan Province of China.
As was originally reported by National File, and subsequently mentioned by the Washington Examiner and Breitbart reports, the HDI worked with the Taihe Institute on their first annual Taihe Civilizations Forum held in August 2017. HDI leadership was present for all of Taihe Institute's forums, except the one held in 2021.
National File previously uncovered a bizarre transhumanist promotion video for the annual event in 2018, which tackled questions such as "What kind of individual rights can we grant to human-like robots in the future?," "Will artificial intelligence replace human labor?," "Will human thought be captured in the future?," "What does it mean to be human in the future?," and "Can I live forever?"
While Breitbart and the Washington Examiner reported on the HDI's connections to the Taihe Institute, the articles omitted the fact that the HDI was once run by Mark Epstein, the brother of the late prolific sexual predator Jeffrey Epstein. Further, in the early years of the organization, HDI leadership was partying with Ghislaine Maxwell and attending UN events alongside her, as seen in the case of HDI Director Amir Dossal.
Epstein also appears to have direct ties to the Chinese military-linked Taihe Institute, as seen in the photograph below depicting HDI's top leadership, including Epstein, alongside Taihe Institute Chairman Ping and Taihe Institute Fellow Wang.