Politics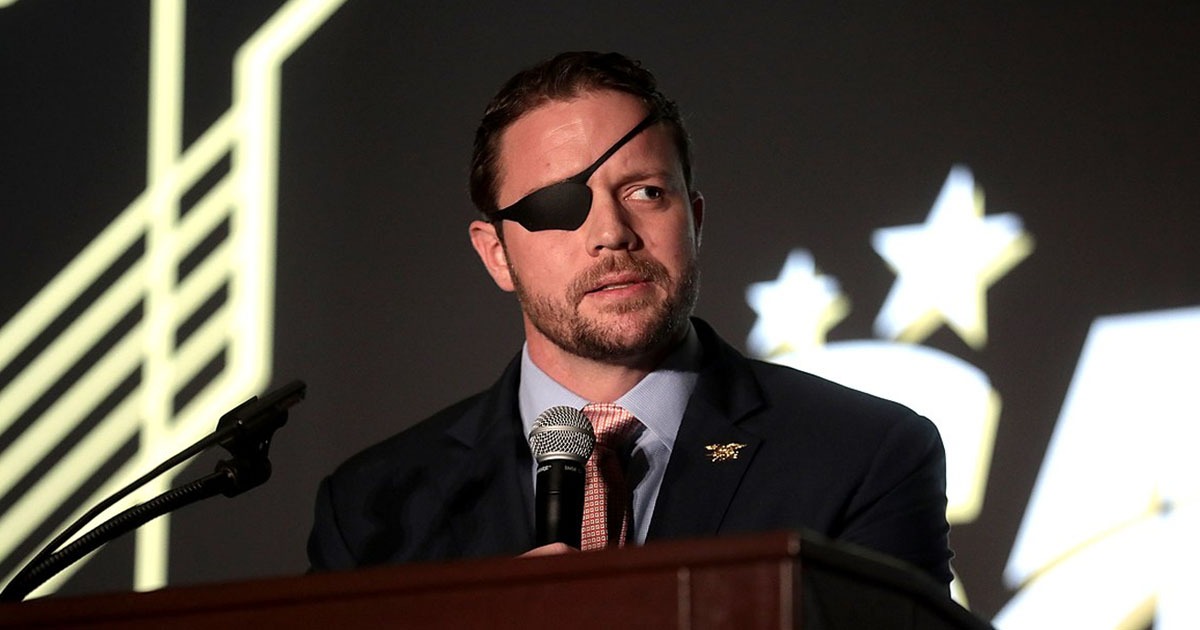 Dan Crenshaw Keeps Getting Ratioed While Arguing With Women On Twitter
Neoconservative House Rep. Dan Crenshaw (R-TX) is having a rough time on social media, continuously getting humiliated in the mentions by the pro-Trump women he routinely picks fights with on Twitter. Despite amassing over one million followers, Crenshaw's comebacks often fall flat in front of the intended digital audience.
Crenshaw's habit of haranguing women on social media started in 2019, when he sent a lengthy direct message to Second Amendment activist Kaitlin Bennett after becoming uncomfortable with criticism over his support for Red Flag laws.
Since then, the sitting congressman and Bennett have continued to jabs at one another, most recently in October when Bennett criticized Crenshaw for failing to take a strong stance for President Donald Trump following the Nov. 3 election.
Advertisement - story continues below
A totally ignorant comment from you. As usual. Read twitter, the news, anything.

— Dan Crenshaw (@DanCrenshawTX) November 5, 2020
READ MORE: Cringe Photo Surfaces Of Dan Crenshaw Cozying Up To Moms Demand Action
Crenshaw quickly appeared in Bennett's comments to insult her, but was quickly rebuffed in subsequent replies.
Okay you smug ass, how about we read this then? pic.twitter.com/pAjAiZDF2I

— Nicholas J. Fuentes (@NickJFuentes) November 5, 2020
Advertisement - story continues below
You were the only speaker at the RNC to not even mention Trumps name. A total Never Trump hack who grifted for votes and popularity

— Ryan James Girdusky (@RyanGirdusky) November 6, 2020
Following the humliation incurred during his spat with Bennett, Crenshaw decided to rant at other different conservative women on Twitter.
READ MORE: Dan Crenshaw Teams Up Democrats in Vote to Remove 'Racist' Confederate Statues
On Wednesday, Crenshaw took issue with a tweet from The Gateway Pundit's Cassandra Fairbanks in which she told him to "shut the f**k up neocon" following his hand-wringing over Middle East troop withdrawals.
https://twitter.com/CassandraRules/status/1328823263934500864
Advertisement - story continues below
Lol what tough talk from someone too afraid to do what is necessary to protect America's flank from our enemies. Not a single coherent argument made, just insults and anger. The sign of shallow thinking.

— Dan Crenshaw (@DanCrenshawTX) November 18, 2020
Crenshaw's reply was ratioed almost immediately, accumulating more replies than likes.
Many users took issue with the fact that Crenshaw spread fear about the dangers of terrorism in the middle East, while simultaneously refusing to address left-wing mob violence against taxpaying citizens within the United States' own borders.
It remains to be seen if Crenshaw will stick to this strange strategy of instigating Twitter fights with women on the internet, in lieu of performing his congressional duties as a public servant.
National File is committed to ensuring your voice can and will be heard. To keep your speech free, we are switching our commenting platform to Insticator. Don't worry! All you have to do is create a commenting account with Insticator. We will be transferring previous comments to our new site, and then you will be able to link your past comments to your new Insticator account. If you have any feedback or questions about your Insticator commenting account, please email them at: [email protected]
Conversation