Big Tech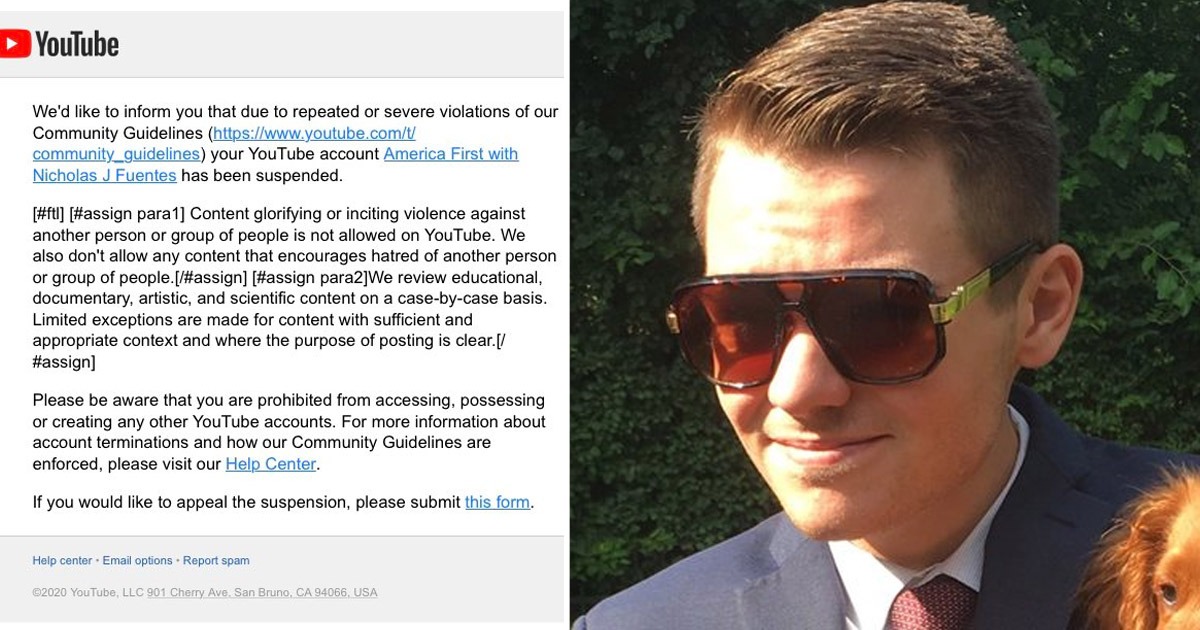 BREAKING: YouTube BANS Nick Fuentes After 'Concerted Effort' by Conservative Inc, Leftists, to Deplatform Him
Nick Fuentes, the host of America First, has been banned from YouTube for apparently violating their policy on hate speech.
Fuentes's channel is now completely blank, with a message on it reading that the account was terminated "due to multiple or severe violations of YouTube's policy prohibiting hate speech."
Fuentes has come under attack from all sides of the political spectrum for daring to speak out against mainstream conservatism and criticise mass migration. Leftists, mainstream conservatives and racial nationalists all despise him, and many have tried to get him removed from the site in the past, as they seemingly all consider him a threat.
Advertisement - story continues below
In December, the host of CBS's flagship 60 Minutes program, Lesley Stahl quizzed Susan Wojcicki, the CEO of YouTube, as to why she hadn't removed Fuentes and other conservative commentators for hate speech. At the time, Wojcicki said the platform wouldn't remove those creators, as there were no laws on the books in America that would order them to do so.
READ MORE: CBS Plans Suspicious "Documentary" on Right-Wing YouTubers, Sends Emails to Nick Fuentes, Faith Goldy
Only last night, Fuentes was targeted by the white nationalist Jean-Francois Gariepy, who said he would happily work together with antifa in order to get him kicked off of YouTube:
Here's the clip, by the way. Not an exaggeration. He literally says he will work with antifa to deplatform Fuentes. pic.twitter.com/AVHzXwWq3I

— Ethan Ralph (@TheRalphRetort) February 13, 2020
Advertisement - story continues below
His channel, which had 76,00 subscribers before the ban, was demonetised last month, following YouTube's implementation of their hate speech rules back in June of last year. "It's the beginning of the end for me on YouTube," Fuentes predicted at the time.
When the news broke that Fuentes had been kicked off of YouTube, leftists and others were absolutely overjoyed:
https://twitter.com/truam3rican/status/1228367589266452480
https://twitter.com/peterabramovic1/status/1228350522131931136
Nick Fuentes is gone from YouTube. Thanks to all the antifa volunteers who have contributed to our campaign. pic.twitter.com/NBrSpd5UKO

— Jean-François Gariépy (@JFGariepy) February 14, 2020
Advertisement - story continues below
YouTube removed white nationalist Nick Fuentes' channel, which he used to spread hate speech to thousands of subscribers: https://t.co/vl1PT3JeeZ

— MollieEBryant (@MollieEBryant) February 14, 2020
However, others came out to support Fuentes, including Breitbart's Allum Bokhari, Paul Joseph Watson of InfoWars, and Michelle Malkin, author of Open Borders Inc.:
If you believe that some people are too offensive to be allowed a platform, you don't believe in free speech – you believe in political censorship. Very dishonest to pretend you don't!

— Allum Bokhari (@LibertarianBlue) February 14, 2020
https://twitter.com/PrisonPlanet/status/1228348314179063809
Advertisement - story continues below
You know ConInc is cheering @YouTube even as they pretend to champion #freespeech. They didn't stand w/ #LauraLoomer or #GavinMcInnes. They tried to kill my career over defending @nickjfuentes & #AmericaFirst kids. They've done nothing to help @McNeilJaden. #freespeech poseuers! https://t.co/49m3S2ZRR8

— Michelle Malkin (@michellemalkin) February 14, 2020
https://twitter.com/rooshv/status/1228374567904784384
Nick Fuentes has been deplatformed on YouTube for daring to even criticise mainstream conservatism. They can't even use their bullshit 'hate speech' excuse this time.

— Adam⚒ (@AdamKirk97) February 14, 2020
https://twitter.com/AmericaHirsty/status/1228370519759761408
Hunter Avallone says conservative censorship isn't real, meanwhile another right-winger was just banned from YouTube. @NickJFuentes was just booted off the platform after a year long smear campaign by the establishment right.

— Liberty Hangout (@LibertyHangout) February 14, 2020
READ MORE: YAF Caves to Outrage Mob, Severs Ties with Michelle Malkin for Supporting America First Conservatives
Fuentes tweeted that his suspension was "the end result of a concerted effort by leftists, conservative inc gatekeepers, and silicon valley censors to silence my show and the movement it has inspired," adding that he would continue his show on DLive, and announce next week a "longer term home" for his show:
America First will continue on DLive and next week I will unveil a longer term home for my show as well.https://t.co/QI3ur2TBaJ

— Nicholas J. Fuentes (@NickJFuentes) February 14, 2020
Ben Shapiro, the neo-conservative commentator, who attacked Fuentes during a 45 minute speech at Stanford University, and who ran away from him when questioned, said that Fuentes was "an absolute disgusting s***show," but didn't support his deplatforming:
Nick Fuentes is an absolute disgusting s***show. But if he was banned for his idiotic, garbage viewpoints rather than for violent threats, YouTube shouldn't be deplatforming him.

— Ben Shapiro (@benshapiro) February 14, 2020
This went down like a cup of cold sick on Twitter:
Ah yes, the Ben Shapiro standard: personal digs and lies while trying to retain the moral high ground. Same guy who wants to ethnically cleanse Palestine will tell you that afro-latina gamer Nick Fuentes is too controversial. https://t.co/h77XnztDhQ

— Manime Podcast (@manimepod) February 14, 2020
https://twitter.com/ConnorMellogH/status/1228371019892772867
Bet you won't debate him on those "idiotic, garbage viewpoints" though, will you?

— Pete D'Abrosca (@pdabrosca) February 14, 2020
National File has reached out to YouTube for comment, but they did not respond before publication.
National File is committed to ensuring your voice can and will be heard. To keep your speech free, we are switching our commenting platform to Insticator. Don't worry! All you have to do is create a commenting account with Insticator. We will be transferring previous comments to our new site, and then you will be able to link your past comments to your new Insticator account. If you have any feedback or questions about your Insticator commenting account, please email them at: [email protected]
Conversation