Last Updated on July 22, 2020
In a statement released on social media on Wednesday, Kim Kardashian-West asked for the public's "compassion and empathy" following a public argument between her and Kanye West, sparked after West discussed the couple's decision not to abort their first child in a campaign event last Sunday, with the presidential candidate claiming Kardashian-West threatened to fly a doctor to the family's Wyoming estate to "lock" him "up" in retaliation.
As some continue to suggest West's independent presidential campaign was sparked due to the artist's struggle with mental illness, for the first time, Kardashian-West released a statement discussing West's "bi-polar disorder" and asking the public for understanding.
"As many of you know, Kanye has bi-polar [sic] disorder," wrote Kardashian-West. "I've never spoken publicly about how this has affected us at home because I am very protective of our children and Kanye's right to privacy when it comes to his health."
Then, Kardashian-West distanced herself from her husband's actions and statements, saying that she "should comment" on them "because of the stigma and misconceptions about mental health."
"Those that understand mental illness or even compulsive behavior know that family is powerless unless the member is a minor," wrote Kardashian-West. She added that those "unaware or far removed from this experience can be judgmental and not understand that the individual themselves have to engage in the process of getting help no matter how hard family and friends try."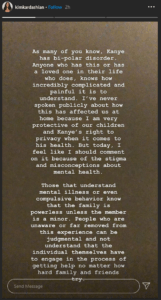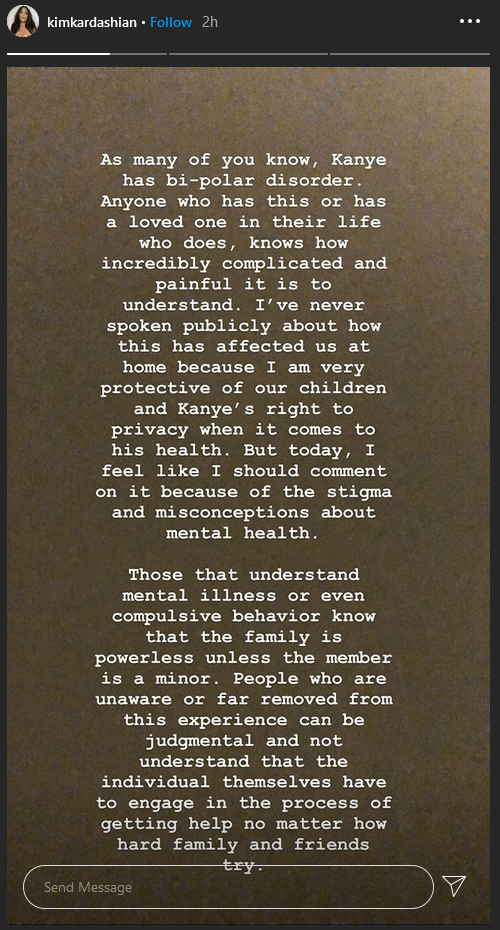 She went on to stay that she understands "Kanye is subject to criticism because he is a public figure and his actions at times can cause strong opinions and emotions." Kardashian-West continued, "Those who are close with Kanye know his heart and understand his words some times do not align with his emotions."
"Living with bi-polar disorder does not diminish or invalidate his dreams," she added.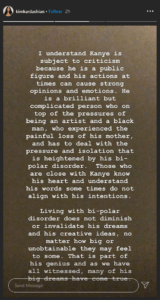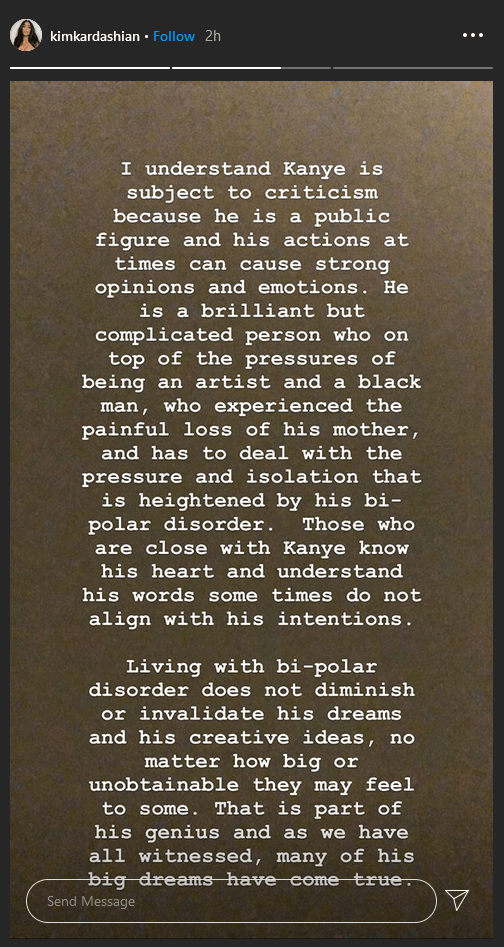 "I kindly ask that the media and public give us the compassion and empathy that is needed so that we can get through this," she concluded.
"Thank you for those who have expressed concern for Kanye's well being and for your understanding."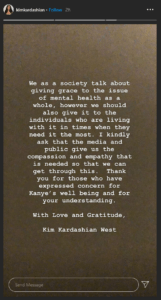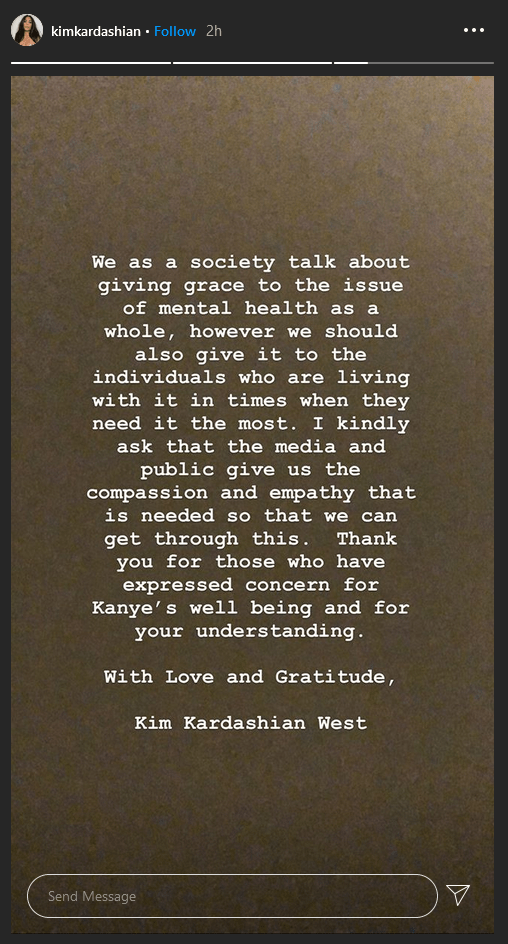 In a series of tweets, West recently claimed that his wife threatened to fly to the family's Wyoming estate with a doctor to "lock" him "up" after he revealed that the couple briefly considered aborting their first child in a pro-life campaign speech on Sunday in South Carolina.
"Kim was trying to fly to Wyoming with a doctor to lock me up," wrote West. "Because I cried about saving my daughter's life yesterday."

The tweet was posted during a frenzy of activity by the presidential candidate, who wrote, and deleted, a previous tweet suggesting his wife and another person named Kriss by Kanye, possibly referring to Kristen Jenner, were threatening to have him taken into custody following the campaign event.

In one tweet, West claimed that "NBC locked up Bill Cosby," after writing that if he is "locked up like Mandella" then "ya'll will know why."
At the same campaign event, West anecdotally noted that "even if" his wife divorced him after the campaign speech, the marriage would have been worthwhile because the couple chose not to abort their first child, and went on to have three more children.