Politics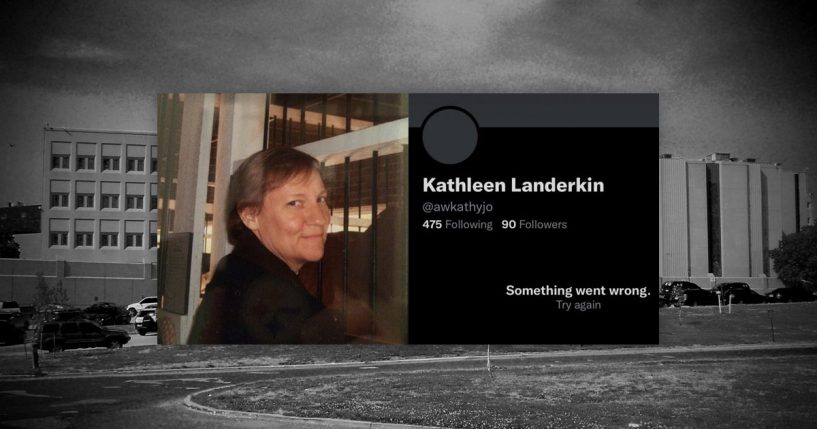 1/6 DC Jail Deputy Warden Deletes Twitter After Vulgar, Anti-Trump Tweets Exposed: 'F**k Everyone Who Supports Trump'
Kathleen Landerkin, the current Correctional Training Facility (CTF) Deputy Warden at the Department of Corrections in the District of Columbia, assists in overseeing day to day operations, inmate transportation, and case management.
Though she holds a position of power of January 6 inmates, Landerkin continued to spout anti-Trump and anti-Republican rhetoric on her Twitter until she deleted her account earlier today.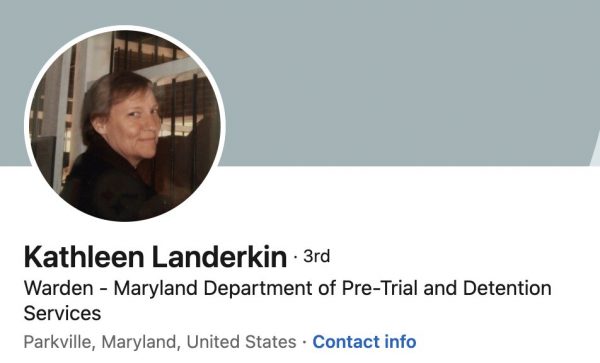 Advertisement - story continues below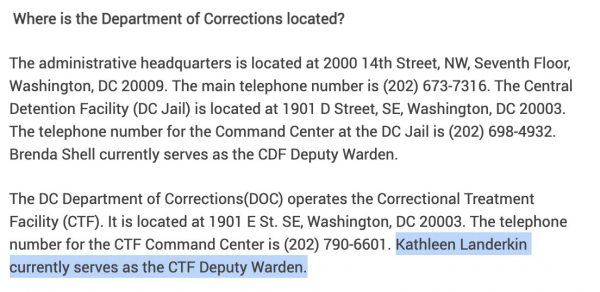 Congresswoman Marjorie Taylor Greene tweeted at Landerkin, "You are responsible for human rights violations in the DC Jail and torture and abuse of pre-trial defendants."
She included a screenshot of one of Landerkin's tweets that read "F**k everyone who supports Trump."
https://twitter.com/mtgreenee/status/1469652392681607176?s=20
Advertisement - story continues below
Alex Brusewitz, the CEO of XStrategies, conducted an advanced search of her twitter by typing "Trump" and dozens of anti-Trump tweets came up such as "The Trump family is a crime family and the GOP in [sic] complicit," and "Trump is doing more damage to this country then [sic] foreign terrorists ever have."
Droves of anti-Trump & anti-republican tweets from the Deputy Warden of the DC Jail where all of the protesters from J6 are being held in AWFUL conditions.@awkathyjo is responsible for GRAVE human rights violations and she must be held accountable immediately.

Watch & RT! pic.twitter.com/mTn3KSk569

— Alex Bruesewitz (@alexbruesewitz) December 11, 2021
She has referred to Trump supporters as "deplorables," the same word Hillary Clinton used to describe Trump supporters in 2016 and claimed that white men are more dangerous than immigrants.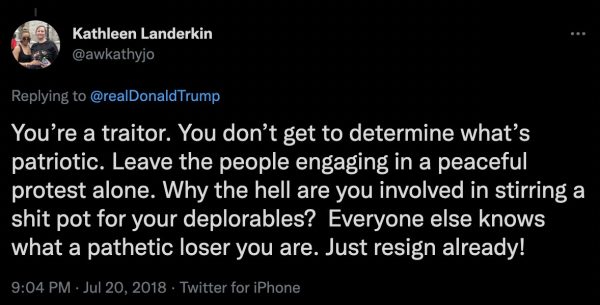 Advertisement - story continues below

In September of 2018, Landerkin revealed that she had a "Resist" bumper sticker on her vehicle.
She had another bumper sticker featuring President Trump depicted as a baby wearing a diaper, and a third with the American flag upside down, an international signal of distress, with the words "Not My President" written under it.
Advertisement - story continues below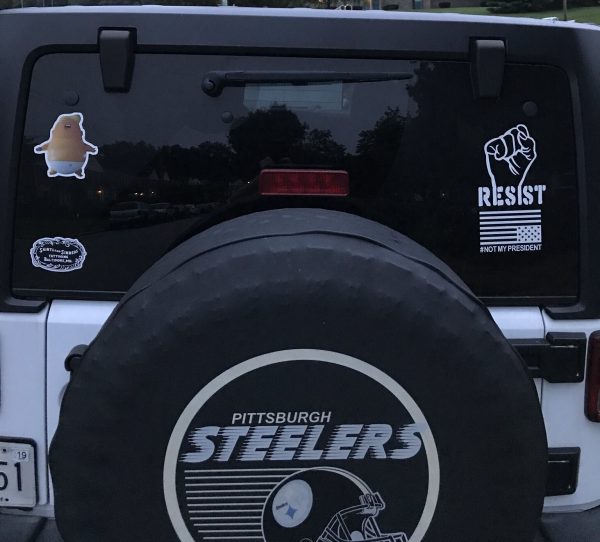 Ironically, while Landerkin opposed President Trump and maintains that he lost the 2020 election, Landerkin also did not believe his supporters would turn up to protest in large numbers in Washington, D.C.
Since January 6, Landerkin seemed to accuse sitting members of Congress of conspiring with the inmates she would soon supervise to launch an "insurrection."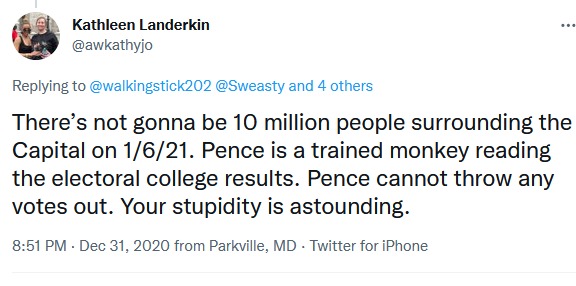 Advertisement - story continues below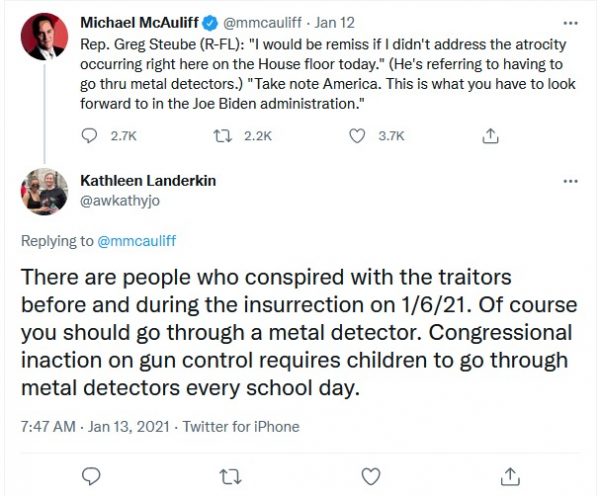 Landerkin also appears to be a partisan Democrat and a supporter of President Barack Obama. She also claimed that, because President Trump did not win the popular vote in 2016, the electoral college should be abolished.
Since 2018, Landerkin has lectured white people and made her disdain for white men known.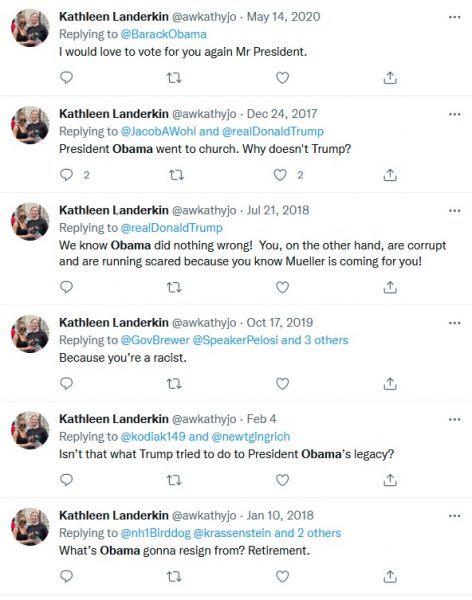 Advertisement - story continues below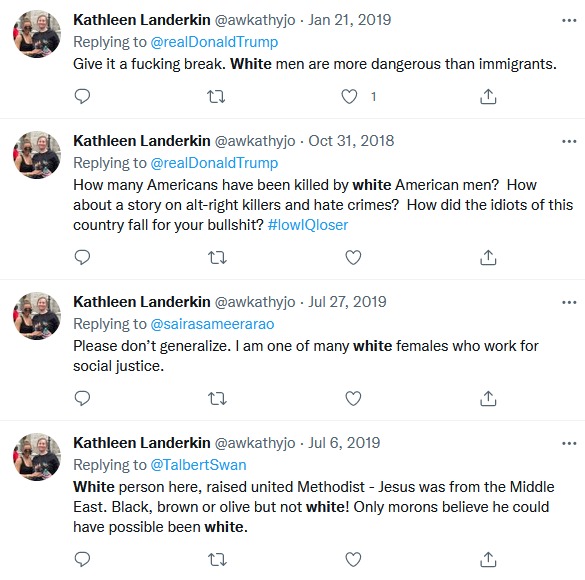 Landerkin also routinely responded to Republican elected officials, candidates, and pundits on Twitter. She rarely – if ever – received a response.
Advertisement - story continues below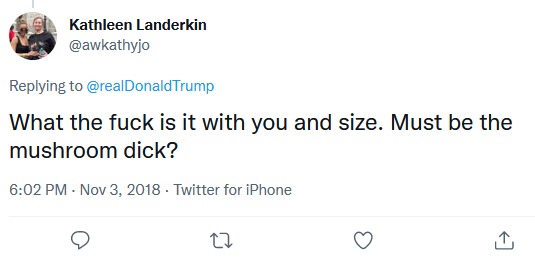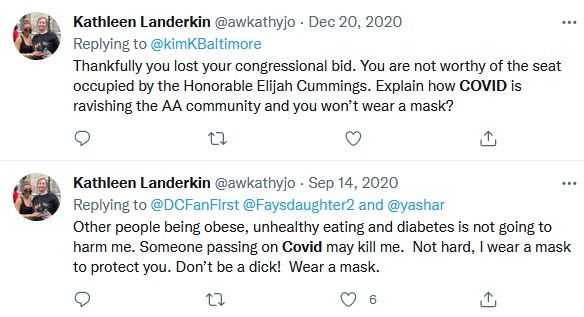 Inmates in the D.C. prison are being transferred to other prisons after the U.S. Marshals Service found "evidence of systemic failures" and unacceptable living conditions. The USMS found human rights being violated by the prison, such as guards that punitively withheld food and water from inmates, inmates that stood in human sewage because the toilets were clogged, and guards that have assaulted inmates.
In addition, Greene has described the conditions of the prison as ""unusually cruel," saying that inmates have been denied access to their attorneys, have been denied haircuts or razors to shave for months, and have not been given proper medical treatment when they needed it. When Greene tried to access the prison post-1/6, Deputy Warden Kathleen Landerkin denied Greene and fellow congressional staff access. Before 1/6, there was never an issue with congressional staff accessing the facility.
Advertisement - story continues below
Landerkin knows that defendants have the right to a fair and speedy trial. Unfortunately, there are 1/6 defendants that are still waiting their sentencing date.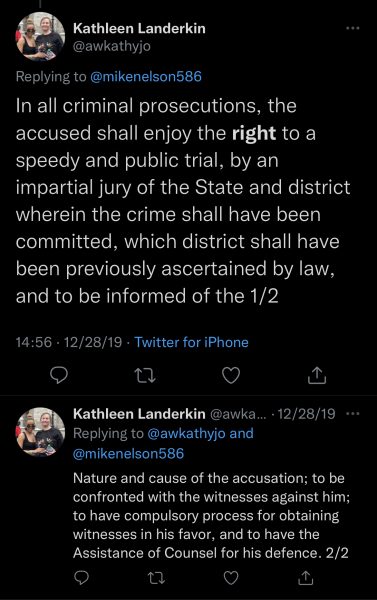 "In fact, [Landerkin] locked us out before," said Greene. "It's clear that there was a lot to hide."
Greene said the 1/6 defendants "have been told that they have to denounce President Donald Trump" and "that their views are the views of cult members."
Advertisement - story continues below
Marjorie Taylor Greene's office released a complete report titled "Unusually Cruel: An Eyewitness Report from Inside the D.C. Jail" that details human rights violations of 1/6 defendants (pdf).
U.S. District Judge Royce Lamberth has ordered that both Quincy Booth, the director of the city's Department of Corrections, and Wanda Patten, the warden of the DC Jail, to be held in contempt of court. While no sanctions or penalties are imposed, the judge said it needed to be determined if civil rights of the inmates in the prison are being violated.
Kathleen Landerkin deleted her Twitter account a few hours following Marjorie Taylor Greene's tweet.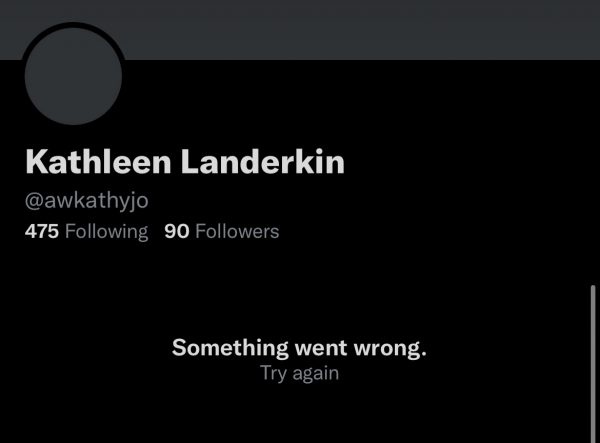 Advertisement - story continues below
National File is committed to ensuring your voice can and will be heard. To keep your speech free, we are switching our commenting platform to Insticator. Don't worry! All you have to do is create a commenting account with Insticator. We will be transferring previous comments to our new site, and then you will be able to link your past comments to your new Insticator account. If you have any feedback or questions about your Insticator commenting account, please email them at: [email protected]
Conversation